---
---
---
---
---
Pathology of Liver Diseases is a rapid reference consultation tool that uses both book and online material to present a whole range of liver disorders.
---
---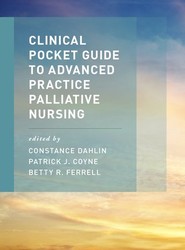 The Clinical Pocket Guide to Advanced Practice Palliative Nursing is a companion guide to Advanced Practice Palliative Nursing, the first text devoted to advanced practice nursing care of the seriously ill and dying. Each chapter presents point-of-care guidance on palliative care issues for quick reference in daily practice. Containing clinical pearls developed from the textbook and practical tools on key points in palliative care, this guide is an ideal resource for practicing APNs.
---
---
Integrative Environmental Medicine is the most up-to-date, evidence-based resource for clinicians on the history, regulation and effects of modern day environmental chemicals and radiation on human health.
---
---
---
---