Inflammatory Bowel Diseases: A Clinician s Guide provides practical guidance for the diagnosis and management of those suspected or known to have one of the forms of these complex diseases.
---
---
---
---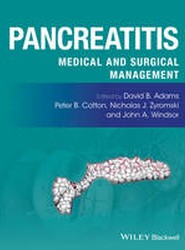 Pancreatitis: medical and surgical management provides gastroenterologists and GI surgeons, both fully qualified and in training, with a focused, evidence-based approach to the most exciting developments in the diagnosis and clinical management of pancreatitis.
---
---
---
So many people struggle with digestive issues from one end of the tract to the other. Finding relief, addressing symptoms, and "fixing" the situation can be difficult and confusing. Here, a seasoned GI doctor discusses the various types of GI ailments and diseases, demystifies colonoscopy, and offers guidance for those seeking relief.
---
---
Fully revised, fourth edition presenting latest advances in diagnostic imaging of the gastrointestinal and hepatobiliary system. Includes nine new chapters and more than 1000 images and illustrations. Previous edition (9788184484342) published in 2008.
---
---
---
---