With extensively revised content and an expanded contributor list of experts, Fenoglio-Preiser's Gastrointestinal Pathology, Fourth Edition keeps you current in this fast-changing field. This highly regarded text remains your go-to reference on gastrointestinal pathology, with coverage of everything from anatomy, physiology, and histology to the full spectrum of congenital disorders, structural alterations, diseases, injuries, and other entities. This comprehensive reference is an ideal resource for pathologists, radiologists, gastroenterologists, and others interested in gastrointestinal diseases.  
---
---
Hardback
£173.69
£192.99
(
Save 10%
)
---
---
---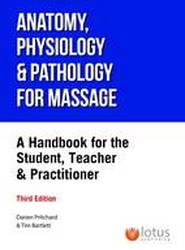 This fully updated third edition of the best-selling Anatomy, Physiology and Pathology for the Massage Therapist provides a solid base for the student and early practitioner to learn the physical make-up of the body, giving a broad introduction to the body's physical functioning.
---
---
---
As medical and surgical skills improve, innovative procedures can bring back patients who have travelled farther on the path to death than at any other time in history. Hagan and the contributors to this volume engage in evidence-based research on near-death experiences and include physicians who themselves have undergone a near-death experience.
---
---
---
---