The Wisdom of Psychopaths
PLEASE NOTE: Due to the relocation of the Wisepress distribution centre, we are unable to ship books until November 2021. Whilst you are welcome to place an order, the book/s will not be shipped until November. Thank you for your understanding.
£10.99
(To see other currencies, click on price)
Paperback / softback
---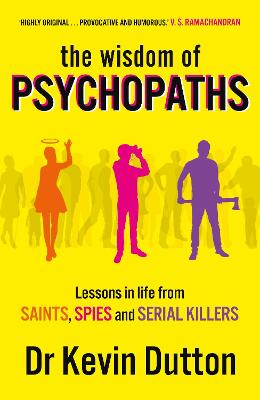 MORE ABOUT THIS BOOK
Main description:
'A surprising, absorbing and perceptive book. I found it altogether fascinating' PHILIP PULLMAN
______________________________________________________
Psychopath. No sooner is the word out than images of murderers, rapists, suicide bombers and gangsters flash across our minds.
But unlike their film and television counterparts, not all psychopaths are violent, or even criminal. Far from it. In fact, they have a lot of good things going for them. Psychopaths are fearless, confident, charismatic, ruthless and focused - qualities tailor-made for success in twenty-first-century society.
In this groundbreaking adventure into the world of psychopaths, renowned psychologist Kevin Dutton reveals a shocking truth: beneath the hype and the popular stereotype, psychopaths have something to teach us.
With a new introduction from the author
___________________________________________
'Highly original . . . provocative and humorous' V. S. RAMACHANDRAN
'This startling study considers whether or not we have anything to learn from psychopaths . . . it's good to know that rubbing shoulders with such dangerous characters hasn't destroyed his sense of humour.' THE TIMES
'Inspiring and revelatory. Dutton's book gave me an insight into who I really am' ANDY McNAB
'Dutton's curiosity takes him from boardrooms and law courts to neurological labs . . . Psychopaths, we learn, are the ultimate optimists; they always think things will work in their favour' GUARDIAN
'The Wisdom of Psychopaths is captivating. Dr. Dutton's book invigorated my consideration of not just a certain television character, but slow-pulsed overachievers everywhere' MICHAEL C HALL (Dexter)
PRODUCT DETAILS
ISBN-13: 9780099551065
Publisher:
Arrow Books Ltd
Publication date: September, 2013
Pages: 320
Dimensions: 129.00 x 198.00 x 24.00
Weight: 277g
Availability: Contact supplier
Subcategories:
Psychology