The Voice in My Head is Perfect
PLEASE NOTE: Due to the relocation of the Wisepress distribution centre, we are unable to ship books until November 2021. Whilst you are welcome to place an order, the book/s will not be shipped until November. Thank you for your understanding.
£8.99
(To see other currencies, click on price)
Paperback / softback
---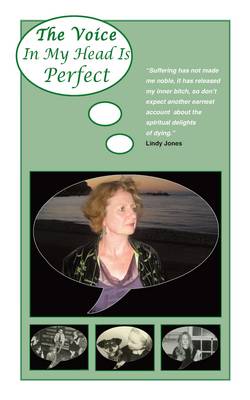 MORE ABOUT THIS BOOK
Main description:
Until 2010, Lindy Jones was a lively, extroverted teacher who had been Head of English in two comprehensive schools: one in in North London and the other in Hertfordshire. She had a loud raucous laugh and loved nothing better than a few glasses of wine and a good night out with her friends. That is until the summer of 2010 when she first noticed that she was slurring her speech. Somewhat of a hypochondriac, she became extremely worried by this strange symptom and once school broke up for the summer she embarked on a series of appointments with medical experts until, finally, a neurologist gave her the shocking news: motor neurone disease a rare, degenerative, incurable illness that ends in death, usually within five years. The account of her illness begins in October 2011 but flashes back to the summer of her diagnosis and latterly to her career in teaching and early life. Lindy found that writing about her illness helped with the despair she felt, and continues to feel, about having a terminal illness which robs you of the ability to talk, eat and move.
Always someone who could make fun of her own failings, Lindy discovers that she is still able to see the humour in her situation at the same time as acknowledging the emotional pain as her body deteriorates. The Voice in My Head is Perfect is a brutally honest account about the particular cruelty of this neurological illness as well as being a celebration of a life well-lived.
PRODUCT DETAILS
ISBN-13: 9780956824769
Publisher:
The Cloister House Press
Publication date: November, 2012
Pages: 108
Dimensions: 127.00 x 203.00 x 6.00
Weight: 611g
Availability: Contact supplier
Subcategories:
Neurology