Showing
10
of 5286 results for
The third edition of this well established textbook provides a readable, comprehensive and accessible account of the law governing health care in England and Wales. The narrative is clear and succinct with full references to legal sources to meet the needs of law students and practitioners. The text sets out the law on public health, the NHS, the health professionals, clinical negligence litigation, patients' rights, and research and health care ethics.
---
---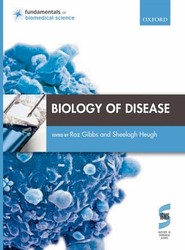 Biology of Disease addresses the pathophysiology of specific disease states and evaluates the multidisciplinary approach to disease diagnosis and management. Starting with an introduction to the basic concepts of health and disease, the book graduates to an in-depth discussion of disease states, while illustrating how theory is linked to practice.
---
---
---
Anxiety disorders and OCD are the most common mental health problems of childhood and adolescence. This book provides a complete, step-by-step program for parents looking to alleviate their children's anxiety by changing the way they themselves respond to their children's symptoms.
---
---
Part of the authoritative Oxford Textbooks in Psychiatry series, the new edition of the Oxford Textbook of Suicidology and Suicide Prevention remains a key text in the field of suicidology, fully updated with new chapters devoted to major psychiatric disorders and their relation to suicide.
---
---
This Handbook provides easily accessible, contemporary, and evidence-based material, to act a reference or first point of enquiry for practitioners working in the diverse areas of primary and community care
---
---
Part of the "What Do I Do Now?: Emergency Medicine" series, Legal and Ethical Issues in Emergency Medicine uses a case-based approach to cover common and important topics in the legal and ethical dilemmas that surface in the practice of emergency medicine. Chapters are rounded out by key points to remember and selected references for further reading.
---
---
A collection of 70 cases covering pregnancy counselling, the management of disease flares, thromboembolic disease, the management of patients with end organ disease, advice on medications, obstetric complications, infections and the management of rare diseases in women with rheumatic diseases before and during pregnancy as well as post-partum.
---
---
This is the first history of cancer in nineteenth-century Britain. It demonstrates that the nineteenth century saw cancer acquire the unique emotional, symbolic, and politicized status it maintains today.
---
---
Chemistry for the Biosciences introduces the essential concepts of chemistry central to understanding biological systems. With an emphasis on straightforward explanations, it features biological examples that illustrate how integral chemistry is to the biosciences, and includes learning features to help students master the essentials.
---
---