Showing
3
of 3 results for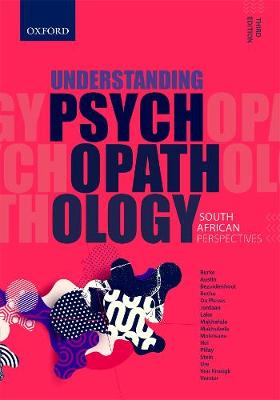 Published November, 2019
By
Melanie Lake
,
Elsabe Jordaan
,
Alban Burke
,
T. Austin
,
C. Bezuidenhout
,
Tracy-Lee Austin
,
Christiaan Bezuidenhout
,
Karel Botha
,
Edwin Du Plessis
,
Karabo Makhafula
,
Malose Makhubela
and
Mokgadi Moletsane
Publisher:
Oxford University Press
(
Oxford University Press Southern Africa
)
Rating:
in-stock
Psychopathology: South African Perspectives 3e provides a solid introduction to the study of mental disorders that incorporates socio-cultural, psychological and biomedical dimensions.
---
---
Provides a body of knowledge from a variety of medical, psychological and legal fields to enable practitioners in those fields to participate in psycholegal assessments in a standardised and informed way. This book also serves as a practical manual which lawyers, psychiatrists and social workers can use when interacting with one another.
---
---