Showing
10
of 36 results for
This book is a state-of-art problem- and condition-based reference book on neurointensive management and care. It is comprehensive and covers the basic sciences as well as systemic care. It is well supported with multimedia video tutorials and has global authorship.
---
---
Biswamoy Pati's fascinating book examines dimensions of the social history of tribals and dalit outcastes in Orissa. It studies the impact of colonial agrarian settlements, adivasi strategies of resistance; indigenous systems of health, the colonial 'medical gaze'; fluidities of caste formations, appropriation by princely rulers of adivasi deities and healing methods; rituals of legitimacy adopted by these rulers; the development of colonial capitalism, as well as the role of marginalized groups in the national movement.
---
---
This hard-hitting volume shows a mirror to the society and, more specifically, to those associated with the health sector—-on how healers, in many cases, are shifting shape to becoming predators. In the essays by contributors from within and outside the medical fraternity, we see the many faces, the many facets of corruption—-from exorbitant billing by corporate hospitals to the non-merit-based selection in medical colleges to the questionable motives playing strong in the area of organ transplantation. It also offers solutions, and some stories of hope. The Foreword by Amartya Sen is an added bonus.
---
---
This is a comprehensive reference book on paediatric neuroanaesthesia. It covers the basic sciences as well as special case scenarios. It is well-supported by multimedia video tutorials and has global authorship.
---
---
This volume provides a holistic narrative that explains the politics of health care access in terms of distribution, utilization, and outcomes as well as the context in which health inequalities are reproduced which is critical not only to scholarly understanding of health care but to informing the development of health care policy in India at a critical juncture.
---
---
This book is a collection of nine masterly and thought-provoking essays written by noted physician Farokh Erach Udwadia. In this book he discusses topics of contemporary importance like Ayurveda, medical ethics, medical inventions during wars, nursing and the influence of Florence Nightingale, importance of music in healing and death.
---
---
This book is a multidisciplinary, clinical, highly illustrated, handy reference for medical practitioners and family physicians, usually the first consult for common proctological disorders like haemorrhoids, anal fissure, anal abscess, fistula, pruritus ani, constipation, and anal complaints of the children, adults, elderly and those in ante- or post-partum periods.
---
---
This volume interrogates the foundational categories that have come to define medical science in modern South Asia. It seeks to probe issues such as what constitutes the 'medical', in which context, and who defines it. This is achieved through case studies that range from the nineteenth to twenty-first centuries, from colonial Bengal and British Burma to present-day Andaman Islands and Ladakh.
---
---
This volume interrogates the foundational categories that have come to define medical science in modern South Asia. Through case studies ranging from nineteenth- to twenty first-centuries, it addresses the following questions: How and in what conditions does an event, a substance, an actor, an institution or a particular situation of the body-mind become or cease to be considered 'medical' and according to whom? How did contingent political histories engender the medical? How does the medical, in turn, reshape and sustain political categories? Is the medical necessarily a stable, coherent and continuous category? In what ways are the rigid boundaries between the medical and the nonmedical blurred? In so doing, Locating the Medical examines close interactions between political authorities, corporeal knowledge and objects of governance.
---
---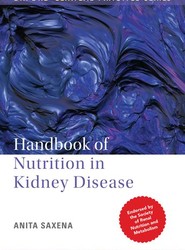 The handbook is a compilation of theoretical and practical approaches to manage malnutrition in kidney diseases. Providing international guidelines, dietary recommendations, and sample diet charts, it will aid nephrologists, clinicians, and dieticians in providing better care and managing cases of malnutrition in renal diseases efficiently. The handbook also addresses concerns that bother patients the most and the various myths about kidney diseases.
---
---