Showing
10
of 59 results for
---
---
---
---
Helps users to get the real-world prehospital experience without leaving the classroom or home. This book helps users to apply what they're learning in "Mosby's EMT-Intermediate Textbook for the 1999 National Standard Curriculum, 3rd Edition, Revised Reprint" on 15 virtual patients in a variety of prehospital environments.
---
---
Reflecting the 2010 Emergency Cardiovascular Care guidelines, this title provides useful information to students and practicing paramedics. Presented in a pocket size and spiral-bound format, it includes management algorithms, emergency drug information, hazmat warning placards, a spinal injury decision tree, and crime scene considerations.
---
---
Covers both prehospital and hospital management of pediatric emergencies. This guide provides information that a provider needs. It is also suitable for the American Safety & Health Institute's (ASHI) pediatric advanced life support course.
---
---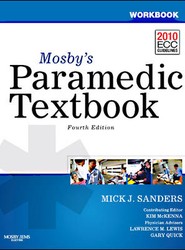 Helping you get the most out of "Mosby's Paramedic Textbook, 4th Edition, this workbook reinforces your understanding of the basic principles and skills needed to successfully practice in the field. It offers review questions in multiple formats, and includes answers with rationales. It reflects the 2010 Emergency Cardiovascular Care guidelines.
---
---
Reflecting the 2010 Emergency Cardiovascular Care guidelines, this book provides a comprehensive learning tool for both first-time and refresher paramedic students. It includes an overview of key subjects such as pharmacology, airway management, medical disorders, patient assessment, and trauma.
---
---
A workbook that provides practice and reinforcement of the key material covered in the two-volume set of "Paramedic Practice Today: Above and Beyond".
---
---