Nonprescription Drugs in Pregnancy
Your Guide to Fetal Risk for the Active Ingredients in 500 Over-the-Counter Drugs
This book is currently unavailable – please contact us for further information.
€20.05
(To see other currencies, click on price)
Paperback / softback
---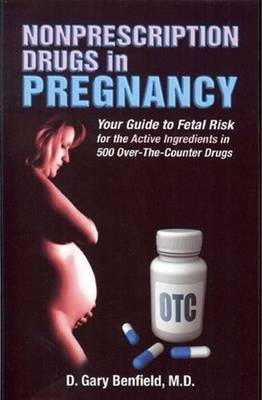 MORE ABOUT THIS BOOK
Main description:
Many women of child-bearing age buy medications over-the-counter for a variety of disorders, such as seasonal allergies and asthma; colds, cough and flu; constipation; diarrhoea; heartburn; motion sickness; headaches and difficulty sleeping. Whether planning their pregnancy or already pregnant, they want to know if these non-prescription drugs are safe for unborn babies. This book helps answer that question for consumers, and for doctors, nurses, pharmacists, and students as well. All non-prescription drugs contain one or more active ingredients which treat the patient's symptoms and are actually drugs themselves. Twenty to 30 years ago, many of these active ingredients were FDA-approved prescription drugs. At the time, those prescription drugs were assigned a Pregnancy Risk Category: A, B, C, D, or X. Later, when these drugs switched from prescription to non-prescription status, meaning they could be used as active ingredients and sold over-the-counter, their Pregnancy Risk Categories still applied. Organised into 14 clinical sections, this unique book contains the FDA's Pregnancy Risk Categories (A, B, C, D, or X) for the active ingredients in 500 non-prescription drugs.
If the drug you are looking for isn't in the book, we have a second way to locate the Pregnancy Risk Categories for the drug's active ingredients. First, note the active ingredients on the drug label of the drug in question. Then, look up those active ingredients and their respective Pregnancy Risk Categories on the extensive List of Active Ingredients located in a separate section of the book. This book also contains helpful articles on How to Read a Non-prescription Drug Label; How the FDA's Pregnancy Risk Categories (A, B, C, D, & X) are defined; The Risks of Using Non-steroidal, anti-inflammatory drugs (NSAIDs) in Pregnancy, and, Taking Acetaminophen: The Good and the Ugly.
Contents:
D Gary Benfield, M.D. practised neonatology " taking care of sick newborns" at Akron Children's Hospital in Akron, Ohio for 35 years. He is Professor Emeritus of Clinical Pediatrics at the North-eastern Ohio Universities Colleges of Medicine and Pharmacy in Rootstown, Ohio and has had research articles published in the New England Journal of Medicine, the Journal of the American Medical Association, Paediatrics, and other medical journals. Dr Benfield received his BS in Electrical Engineering from the University of Maryland in 1959; his M.D. from the University of Maryland School of Medicine in 1965; and his MA in Philosophy from Kent State University in 1988.
PRODUCT DETAILS
ISBN-13: 9780977984893
Publisher:
Smart Start Press
Publication date: April, 2011
Pages: 375
Dimensions: 215.00 x 140.00 x 28.00
Weight: 506g
Availability: Not available (reason unspecified)
Subcategories:
Obstetrics and Gynaecology