Metal Catalysts in Olefin Polymerization
£314.50
(To see other currencies, click on price)
Paperback / softback
---
£314.50
(To see other currencies, click on price)
---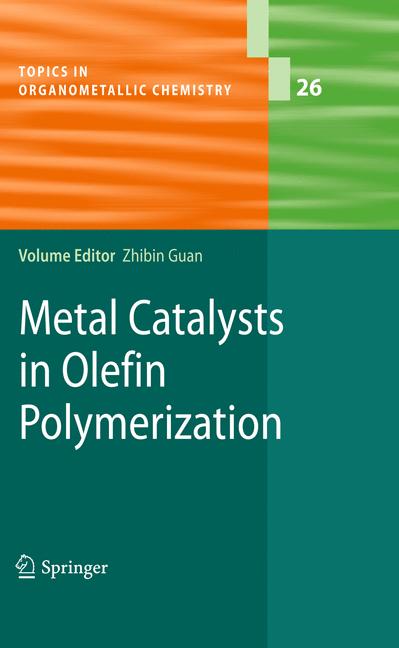 MORE ABOUT THIS BOOK
Main description:
Polyolefin is a major industry that is important for our economy and impacts every aspect of our lives. The discovery of new transition metal-based catalysts is one of the driving forces for the further advancement of this field. Whereas the classical heterogeneous Ziegler-Natta catalysts and homogeneous early transition metal metallocene catalysts remain the workhorses of the polyolefin industry, in roughly the last decade, tremendous progress has been made in developing non-metallocene-based olefin polymerization catalysts. Particularly, the discovery of late transition metal-based olefin polymerization catalysts heralds a new era for this field. These late transition metal complexes not only exhibit high activities rivaling their early metal counterparts, but more importantly they offer unique properties for polymer architectural control and copolymerization with polar olefins. In this book, the most recent major breakthroughs in the development of new olefin polymerization catalysts, including early metal metallocene and non-metallocene complexes and late transition metal complexes, are discussed by leading experts. The authors highlight the most important discoveries in catalysts and their applications in designing new polyolefin-based functional materials.
Feature:
Each volume of Topics in Organometallic Chemistry provides the broad scientific readership with a comprehensive summary and critical overview of a specific topic in organometallic chemistry
Research in this rapidly developing transdisciplinary field is having profound influence on other areas of scientific investigation, ranging from catalytic organic synthesis to biology, medicine and material science
Contents:
Early Transition Metal Catalysis.- Discovery and Development of FI Catalysts for Olefin Polymerization: Unique Catalysis and Distinctive Polymer Formation.- Hafnocene-Based Olefin Polymerizations.- Chain Shuttling Catalysis and Olefin Block Copolymers (OBCs).- Late Transition Metal Catalysis.- Iron-Based and Cobalt-Based Olefin Polymerisation Catalysts.- Late Transition Metal Catalysts for the Copolymerization of Olefins and Polar Monomers.- Recent Progress in Late Transition Metal ?-Diimine Catalysts for Olefin Polymerization.- Structural and Mechanistic Aspects of Copper Catalyzed Atom Transfer Radical Polymerization.
Related books
Publisher recommends
Related books
From the same series
---
From the reviews: "This volume contains seven chapters that focus on various aspects of current research into olefin polymerization. … Each chapter is authored or coauthored by well-recognized experts in the field. The material is well written and provides the reader with a considerable amount of interesting and useful factual information. … This book will be of interest to academics and industrial scientists involved in the design of catalysts for olefin polymerization and should be in the reference section of every good chemistry library." (Richard A. Jones, Journal of the American Chemical Society, Vol. 132 (12), 2010)