PLEASE NOTE: Due to the relocation of the Wisepress distribution centre, we are unable to ship books until November 2021. Whilst you are welcome to place an order, the book/s will not be shipped until November. Thank you for your understanding.
£9.99
(To see other currencies, click on price)
Paperback / softback
---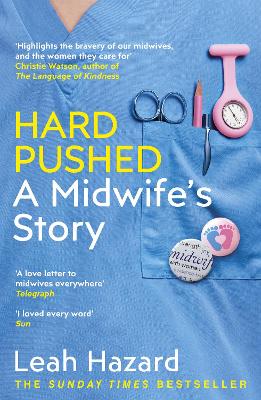 MORE ABOUT THIS BOOK
Main description:
THE SUNDAY TIMES BESTSELLER, from the co-host of the podcast WHAT THE MIDWIFE SAID
________________
No sleep for twenty hours. No food for ten.
And a ward full of soon-to-be mothers...
Midwives are there for us at some of the most challenging, empowering and defining moments of our lives. From heart-wrenching grief to the pure joy of a new-born baby, midwife Leah Hazard has seen it all.
But life on the NHS front line, working within a system at breaking point, is more extreme than you could ever imagine.
Moving and compassionate, funny and unexpected, Leah shares her experiences in this extraordinary love letter to new mothers and fellow midwives everywhere.
_____________________
'The stories in Hard Pushed highlight the bravery of our midwives, and the women they care for.' CHRISTIE WATSON, author of The Language of Kindness
'Heart-rending, inspiring and funny, Hard Pushed brings alive the world of midwifery in all its complexity and radiates love and respect for women.' PROFESSOR LESLEY PAGE CBE, former president of the Royal College of Midwives
'It is Leah Hazard's capacity to love and give so personally to the many thousands of women she has worked with which imbues this book with its power.' JULIA SAMUEL, author of Grief Works
'Not only powerful but well written too . . . a worthwhile addition to a genre fast becoming as crowded as a busy maternity unit.' DAILY EXPRESS
'A riveting read: heartwarming and heartbreaking' SHEENA BYROM OBE, midwifery consultant and author of Catching Babies
'A beautifully written, intimate portrait of the extraordinary work that midwives carry out each and every day.' CAROLINE ELTON, author of Also Human: The Inner Lives of Doctors
PRODUCT DETAILS
ISBN-13: 9781787464216
Publisher:
Arrow Books Ltd
Publication date: February, 2020
Pages: 304
Dimensions: 129.00 x 198.00 x 129.00
Weight: 255g
Availability: Contact supplier
Subcategories:
Midwifery