Showing
9
of 9 results for "Series: Hospital Medicine: Current Concepts"
This concise guide offers the fast–growing community of hospitalists an approach to physical examination that is efficient and strategic.
---
---
The first comprehensive, clinically focused guide to help hospitalists and other hospital–based clinicians provide quality palliative care in the inpatient setting.
---
---
Focusing on inpatient cardiovascular medicine in a highly algorithmic and evidence–based approach, Inpatient Cardiovascular Medicine is the first book developed specifically to help hospitalists manage the rapidly growing population of hospitalized patients who present with cardiovascular disorders.
---
---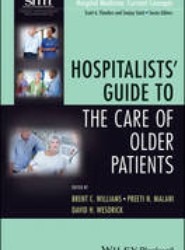 Providing a practical, up–to–date reference in Geriatric Medicine, Hospitalists′ Guide to the Care of Older Patients is the first book written specifically for hospitalists who need concise, evidence–based information on the vital topic of caring for older hospitalized patients.
---
---
This book presents the first evidence–based casebook for hospitalists and other hospital–based physicians, associated staff, and trainees. Each clinical chapter concludes with practical "pearls" for application to the user′s own practice.
---
---
The first perioperative care resource specifically targeted to hospitalists, this book offers a comprehensive presentation of systems and operational issues related to the perioperative care of patients.
---
---
With hospital medicine growing rapidly in both scale andcomplexity, the learning curve for students is steeper, whileexperienced physicians are often called upon to act as mentors andcaregivers in areas outside their primary fields of expertise.
---
---
This gorgeous, full–color atlas and case–book presents more than sixty cases with over one hundred associated, super high–quality clinical images that a physician needs to be able to rapidly recognize and know for accurate, expedient diagnosis and treatment.
---
---
This text provides a comprehensive guide to anticoagulation in the hospital setting. Designed specifically for use by hospital–based clinicians and associated hospital–based staff (nurses, nurse practitioners, physician assistants), the book addresses the most commonly used anticoagulant agents and primary indications for their use.
---
---