Neurological Case Histories
Case Histories in Acute Neurology and the Neurology of General Medicine
£51.00
(To see other currencies, click on price)
Paperback / softback
---
£36.66
(To see other currencies, click on price)
---
£36.66
(To see other currencies, click on price)
---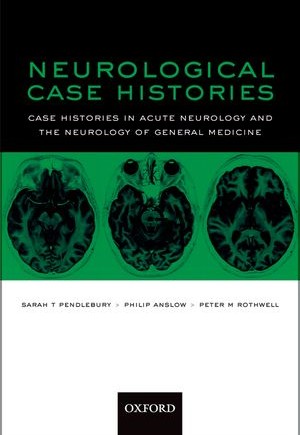 MORE ABOUT THIS BOOK
Main description:
This book is a collection of over 50 case histories of patients with predominantly acute neurological illness, with particular emphasis on conditions that present to physicians in both acute general (internal) medicine and neurology, including headache, encephalopathy and altered consciousness, behavioural disturbance, seizures and focal deficits. The majority of the cases have endocrine, vascular, infectious or metabolic aetiologies and include examples of common conditions
presenting in unusual ways. The differential diagnosis in such cases is often broad but rapid diagnosis and treatment is often paramount.

Each case is outlined in brief and is followed by several questions on clinically important aspects of the diagnosis and management. The answers are accompanied by a detailed discussion of the differential diagnosis, together with other clinically important aspects of the condition. The text is complimented by over 170 radiographic illustrations. The question-and-answer format is designed to enhance the reader's diagnostic ability and clinical understanding.
PRODUCT DETAILS
ISBN-13: 9780192631626
Publisher:
Oxford University Press
(
OUP Oxford
)
Publication date: February, 2007
Pages: 322
Dimensions: 155.00 x 233.00 x 15.00
Weight: 469g
Availability: Manufactured on demand
Subcategories:
Neurology
Related books
From the same series
---
It contains 51 cases that cover the spectrum of acute neurology and the neurology of general medicine - this breadth makes the volume unique and provides a formidable challenge. ...it is a heavy-duty diagnostic series of cases, and readers have to work hard, to recognise the dignoses and answer the questions that are posed for each case. ... I recommend this excellent volume highly.... An excellent selection of very interesting cases. My desire as a medical SHO is that a book of this type doesn't leap straight to the use of MRI for every case which essentially takes out the skill of producing a useful differential diagnosis for neurological presentations. Fortunately the authors have struck this balance carefully and there is always an extensive discussion of the differential diagnosis including common medical problems such as hypothyroidism. The radiology images are small but of excellent quality, aided by decent paper and binding. Overall I found this book very enjoyable to read and highly informative. Having recently completed the MRCP, I think I would have found it useful for revision - particularly for the part 2 written.