School Health Services in India
The Social and Economic Contexts
PLEASE NOTE: Due to the relocation of the Wisepress distribution centre, we are unable to ship books until November 2021. Whilst you are welcome to place an order, the book/s will not be shipped until November. Thank you for your understanding.
£35.00
(To see other currencies, click on price)
Hardback
---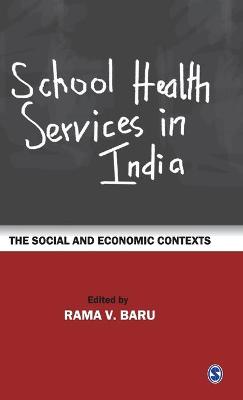 MORE ABOUT THIS BOOK
Main description:
While the contribution of education to health has gained recognition, the reciprocal relationship between health and education and its outcomes have not been adequately studied. This work broadens the perspective on school health in India by locating it within the epidemiological and socio-economic context of children in the school-going age group. The collection explores the social context and programmes for school health in the country, including the Mid-Day Meal (MDM) Scheme, School Health Services and School Health Education. Studies have shown that socio-economic factors play a very important role in determining enrolment, retention, completion and learning in schools. School Health Services in India: The Social and Economic Contexts analyzes the relationship between levels of malnutrition and minor and major illnesses on the one hand, and socio-economic status, on the other. It also examines in detail the different components of the school health programme in India and how they function in different contexts.
In addition, it showcases the experiences of three NGOs who have adopted innovative approaches to transact health education in government schools in Maharashtra, Madhya Pradesh and Karnataka. This seminal work will be helpful to teachers and researchers working in the fields of Education and Health. It will also be immensely useful for researchers and faculty working in the areas of Social Medicine, Community Health and Social Work.
Contents:
Introduction - Rama V Baru Through the Life Cycle of Children: Factors that Facilitate/Impede Successful Primary School Completion - Vimala Ramachandran, Kameshwari Jandhyala and Aarti Saihjee The Future of Mid-Day Meals - Jean Dreze and Aparajita Goyal Mid-Day Meals in Primary Schools: Achievements and Challenges - Reetika Khera Towards more Benefits from Delhi's Mid-Day Meal Scheme - Meera Samson, Claire Noronha and Anuradha De School Health Services in India: An Overview - Rama V Baru Innovations in Health Education Curriculum in Schools: Towards an 'Art of the Possible' - Anu Gupta, Mohan Deshpande, R. Balasubramaniam and Anil C. Index