Restoring Quality Health Care
A Six-Point Plan for Comprehensive Reform at Lower Cost
This book is currently unavailable – please contact us for further information.
PLEASE NOTE: Due to the relocation of the Wisepress distribution centre, we are unable to ship books until November 2021. Whilst you are welcome to place an order, the book/s will not be shipped until November. Thank you for your understanding.
£22.95
(To see other currencies, click on price)
Hardback
---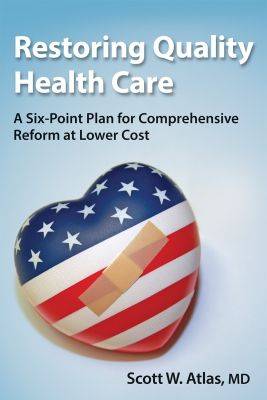 MORE ABOUT THIS BOOK
Main description:
In Restoring Quality Health Care, Dr. Scott Atlas examines the status of US health care, particularly in light of the Affordable Care Act, and presents a series of key reforms to meet the significant health care challenges facing the nation. Atlas proposes a six-point, strategic, incentive-based reform plan for US health care. The plan aims to instill market-based competition, empower consumers, and reduce the federal government's authority over health care. Those reforms focus on restoring the appropriate incentives in to increase the quality of health care and reduce its costs. Atlas's plan restores the intended purpose of health insurance (to protect against the risk of significant and unexpected health care costs), enhances the affordability of twenty-first-century medical care, and ensures continued innovation. Were the plan to be implemented fully, private and federal government health expenditures would conservatively decrease by trillions of dollars during the decade and access to high-quality health care would significantly improve.