Quick Draw Anatomy for Medical Students
This book is not yet published – pre-order your copy now.
PLEASE NOTE: Due to the relocation of the Wisepress distribution centre, we are unable to ship books until November 2021. Whilst you are welcome to place an order, the book/s will not be shipped until November. Thank you for your understanding.
£27.99
(To see other currencies, click on price)
Paperback / softback
---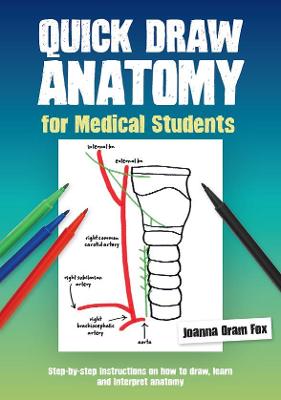 MORE ABOUT THIS BOOK
Main description:
Simple, step-by-step instructions on how to draw, learn and interpret the anatomy you need to know as a medical student.
More than a simple colouring book, this unique title shows you how to draw key anatomical structures. This active drawing process reinforces learning and aids understanding and retention.
An overview illustration and detailed explanation is followed by instructions to show you how to draw the anatomy yourself one simple step at a time - this methodical approach will help you remember what goes where!
Features hundreds of hand-drawn illustrations that are easy to copy and remember - you don't have to be a brilliant artist, you just need some coloured pens and blank paper ...
Chapters cover from head to toe, via the skin, cardiac anatomy and the respiratory system - everything you need is described.
"The easy, proven, way to actively learn anatomy"
Contents:
1. Head, neck and neuro-anatomy
2. Vertebral column and the back
3. Cardiac anatomy
4. Airway and respiratory system
5. Abdomen
6. Pelvis and reproductive systems
7. Upper limb
8. Lower limb
9. Skin, immune system and breast
PRODUCT DETAILS
ISBN-13: 9781911510512
Publisher:
Scion Publishing Ltd
Publication date: January, 2022
Pages: 250
Weight: 615g
Availability: Contact supplier
Subcategories:
Anatomy