Showing
8
of 8 results for
Fully updated for DSM-5, this exciting revision complements the abnormal psychology course by providing 17 case histories based on the authors' clinical experiences. The casebook also provides three "You Decide" cases - written without diagnosis or treatment, so students can identify disorders and suggest appropriate therapies.
---
---
Rosenberg and Kosslyn's Abnormal Psychology brings students to the forefront of the study of the brain and its role in psychological disorders. The new edition features the book's distinctive emphasis on the interplay between the neurological, psychological, and social factors involved in understanding psychological disorders and their treatment.
---
---
This text explores the psychology of how we react to illness and relate to the health care system. The third edition has been thoroughly revised to keep students up to date with the latest research developments in this dynamic field. The brand new feature 'Weighing In On Health' helps students to link the science to the world around them.
---
---
With over 40% new research citations, and a rewriting of every chapter, this twelfth edition gives a clear and comprehensive presentation on the most up-to-date information on drug action mechanisms, etiologies of major psychological disorders, drug treatment rationales, and the uses of psychopharmacology in patient care.
---
---
Like no other, this textbook presents the latest neuropsychsocial approach to abnormal psychology, showing the interplay between the neurological, psychological, and social factors involved in psychological disorders and their treatment. (This title is market restricted. Please consult your sales representative for availability.)
---
---
This detailed study guide helps students to understand and retain the material in Fundamentals of Abnormal Psychology, sixth edition, by Ronald Comer. Each chapter includes exercises and practice tests, section reviews, key concept reviews and guided study questions.
---
---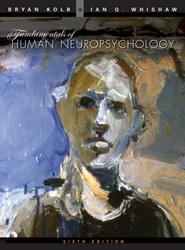 A scholarly guide to human neuropsychology with a clinical focus throughout. Thorough coverage of brain evolution unites the study of its anatomy and physiology with an understanding of its cognitive, experimental and clinical psychological functions. The 6th edition is updated throughout and has a new 4-colour design.
---
---
Offers a presentation of the processes by which biological systems, most notably the nervous system, affect behaviour. Including chapter-opening vignettes, real world examples, applications sections, and summaries, this title is intended for students taking biological psychology.
---
---