Showing
10
of 13 results for
After losing his wife to cancer and suffering mental health problems, Jamie Rogers knew that things could be made better. Sharing stories of other bereaved fathers, interleaved with information regarding hospice help, this book is designed to dispel some of the myths surrounding hospice care.
---
---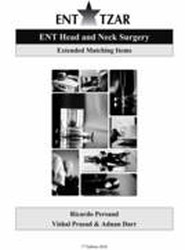 This book contains 400 EMI MCQ questions, which collectively reflect the breadth of important topics in Otorhinolaryngology, Head and Neck Surgery. Each chapter is followed by answers with succinct explanations to consolidate knowledge and understanding. It will appeal to those who want to quickly evaluate and update their knowledge.
---
---
Having been diagnosed with a rare form of cancer John realised that specially chosen pieces of music have a major role in supporting people going through complex medical procedures. This book is practical, fun and interactive. It helps people to choose music that will support them through diagnosis, treatment and to aid healing and recovery.
---
---
Noel Stuart nursed no other ambition than to work with animals. His lifelong passion and his interest in complimentary medicine combined to culminate in his eventual choice of career as a veterinary surgeon. His work as a vet and second career as a writer is a rich tapestry of down to earth practice alongside a great sense of humour.
---
---
This is a novel guide aimed at improving your knowledge of common otolaryngology disorders as well as your clinical and diagnostic skills. The content provides a valuable aide for medical students preparing for examinations, GPs wishing to revise their ENT knowledge, and junior doctors starting their first ENT job.
---
---
This book contains 672 single best answer MCQ questions presented in 6 separate papers (112 questions per paper).
---
---
Passing the DO-HNS OSCE examination is vital for Higher Surgical Training in the UK and for the intercollegiate MRCS (ENT) diploma. In this book, over 100 questions with answers are presented to save you many hours of trawling through lengthy textbooks. In addition, this book will help to cement your status as a sound ENT clinician.
---
---
Traffic light approach is the first book to be written in the format of section 2 of the UK Intercollegiate Fellowship Examination (FRCS ORL-HNS). During the viva, the examiner starts with an introductory question (here colour-coded green) followed by one or more competency question(s) (amber) and finally one or more advanced question(s) (red).
---
---
This is a true account of our efforts to cope with the torment of depressive illness with koalas, sharks, pandas, pterodactyls, the beauty of the natural world and even an angel along the way.
---
---
CriticAir's Starting to read ECGs provides all the information you need to start to record and interpret ECG's and apply what you have learnt to your clinical area. This book is ideal for junior doctors, nurses, paramedics, students and health care professionals involved in the recording and interpreting of 12 lead ECGs.
---
---