Showing
10
of 17 results for
In 2001, Thailand introduced universal health care reforms that have become some of the most celebrated in the world. Drawing on two years of fieldwork at a district hospital in northern Thailand, Bo Kyeong Seo examines how people in marginal and dependent social positions negotiate the process of obtaining care.
---
---
Since the defeat of the Nazi Third Reich and the end of its horrific eugenics policies, battles over the politics of life, sex, and death have continued and evolved. Dagmar Herzog documents how reproductive rights and disability rights, both latecomers to the postwar human rights canon, came to be seen as competing - with unexpected consequences.
---
---
Based on extensive field research in the Manianga region of the Lower Congo, Health in a Fragile State is an anthropological account of public health and health care after the collapse of the Congolese state in the 1980s and 1990s.
---
---
Drawing on deep fieldwork, this political study of HIV-prevention NGOs in Kenya serves as a much-needed case study for understanding the web of political and economic pressures local development programs must navigate--and why that matters when "success" is based on prioritizing donor-set goals over locally identified needs.
---
---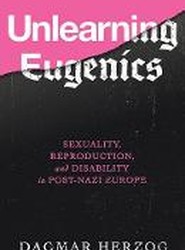 Bringing together the latest findings in Holocaust studies, the history of religion, and the history of sexuality in postwar - and now also postcommunist - Europe, Unlearning Eugenics shows how central the controversies over sexuality, reproduction, and disability have been to broader processes of secularization and religious renewal.
---
---
Written for nonexperts, this is a brisk, engaging history of American healthcare from the 1960s to the impact of the Affordable Care Act in the 2010s. Unaffordable covers, in a conversational style punctuated by apt examples, topics ranging from health insurance, pharmaceutical pricing, and physician training to health maintenance organizations and hospital networks.
---
---
In these moving, often surprising essays, award-winning author and comedian Bob Smith writes about facing life with ALS, his rich, funny experience of fatherhood before and after his diagnosis, and about his enduring relationship with nature, which inspires him to fight for his survival and for the future of his two children.
---
---
In a memoir that blends engaging charm with unflinching frankness, Charles Monroe-Kane gives his testimony of mental illness, drug abuse, faith, and love. By the end of Lithium Jesus there may be a voice in your head, too, saying "Do more, be more, live more. And fear less."
---
---
---
This eyewitness account by one of Sigmund Freud's earliest students has been rediscovered for twenty-first-century readers. Isidor Sadger's recollections provide a unique window into the early days of the psychoanalytic movement and also illuminate Freud's own struggles: his delight in wit, his attitudes toward Judaism, and his strong opinions concerning lay, non-medical psychoanalysts
---
---