Showing
10
of 12 results for
A study of the linguistic negotiations at the heart of mental illness identification and patient diagnosis. Through an examination of psychiatric case records from the late nineteenth and early twentieth centuries, this book shows how the work of psychiatry was navigated by patients, families, doctors, the general public, and the legal system.
---
---
A collection of essays by South Carolina activists on the development of the LGBTQ movement
---
---
An innovative biography and the first forensic psychiatric examination of author Ernest Hemingway. Andrew Farah, a forensic psychiatrist, has concluded that the writer's diagnoses were incorrect. Contrary to the commonly accepted diagnoses of bipolar disorder and alcoholism, Farah provides a comprehensive explanation of the medical conditions that led to Hemingway's suicide.
---
---
An examination of the efficacy and safety of psychiatric medications in light of how little is understood about how they work
---
---
---
Dr. James Woods Babcock, superintendent of the South Carolina State Hospital for the Insane from 1891 to 1914, led the American response to pellagra, producing the first English-language treatise on the disease and organizing the meetings of the National Association for the Study of Pellagra.
---
---
Explores methods of cure during a time when the South relied more heavily on homespun remedies than on professionally prescribed treatments. Bringing to light several previously unpublished primary sources, Kay K. Moss inventories the medical ingredients and practices adopted by physicians, herb women, yeoman farmers, plantation mistresses, merchants, tradesmen, preachers, and quacks alike.
---
---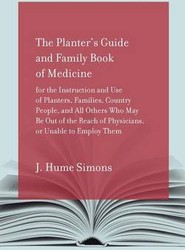 ---
---