Showing
10
of 36 results for
Brings together an interdisciplinary group of scholars at the forefront of their fields to consider whether new approaches to the study of science and culture have cast doubt on the complexity thesis, or if it remains a serviceable historiographical model.
---
---
Confronts the toxic landscapes that pervade modern life, from nuclear radiation to pesticides.
---
---
The Construction of Medical Privilege and a New Argument about Medical "Progress"
---
---
The Pressures of Modern Life and Their Impact on Bodily and Mental Health in Nineteenth-Century Britain
---
---
Examining the Circulation, Commodification, and Organization of Healing Goods and Healing Knowledge
---
---
Reveals how these anxieties about health and social order, which manifested in emerging ideals of the body, created a uniquely spatial and urban experience of modernity in postrevolutionary Paris, one profoundly impacted by hygiene, mobility, productivity, leisure, spectacle, and technology.
---
---
Jan Baedke offers the first comprehensive philosophical discussion of epigenetic concepts, explanations, and methodologies so that we can better understand this "epigenetic turn" in the life sciences from a philosophical perspective.
---
---
Focuses on medical and philosophical debates on human intelligence and animal perception in the early modern age, providing fresh insights into the influence of medical discourse on the rise of modern philosophical anthropology.
---
---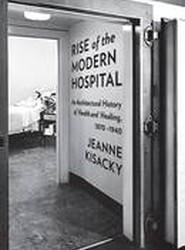 Examines hospital design in the United States from the 1870s through the 1940s. Jeanne Kisacky reveals the changing role of the hospital within the city, the competing claims of doctors and architects for expertise in hospital design, and the influence of new medical theories and practices on established traditions.
---
---
An in-depth study of the English neurologist and polymath Sir Henry Head (1861-1940). Head bridged the gap between science and the arts. He was a published poet who had close links with such figures as Thomas Hardy and Siegfried Sassoon. His research into the nervous system and the relationship between language and the brain broke new ground.
---
---