Showing
10
of 11 results for
As medical and surgical skills improve, innovative procedures can bring back patients who have travelled farther on the path to death than at any other time in history. Hagan and the contributors to this volume engage in evidence-based research on near-death experiences and include physicians who themselves have undergone a near-death experience.
---
---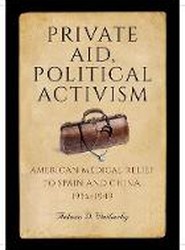 This book explores American medical relief to Spain and China in response to the Spanish Civil War and the Second Sino-Japanese War, illustrating a shift in how people responded to foreign conflict and how humanitarian aid was used as a political tool from the interwar period through World War II.
---
---
Fulton State Hospital was not only Missouri s first state mental asylum but also the first such institution west of the Mississippi. In tracing its founding and evolution over a century and a half, this book sheds light on both a neglected aspect of the state's history and the development of mental health care in America.
---
---
Examines the practice of medicine in colonial Africa. Britons dealt with the challenges of providing health care to their civilian employees, African soldiers, and the increasing numbers of freed slaves in the general population, even while the imperialists themselves were threatened by a lack of western medicines.
---
---
Mark Twain's comments on a wide range of topics continue to be accurate, valid, and frequently amusing and his opinions on the medical field are no exception. While Twain's works are rich in medical imagery and medical themes derived from his personal experiences, his interactions with the medical profession and his comments about health, illness, and physicians have largely been overlooked.
---
---
---
---
---
---
---