Showing
4
of 4 results for
Tells the fascinating story of the first fifty years of the Cumming School of Medicine at the University of Calgary. Drawing on interviews with key players and extensive research into documents and primary material, Creating the Future of Health traces the history of the school through the leadership of its Deans.
---
---
Provides a practical guide for scoring a FEPS program against the criteria set out in the fidelity scale. The guide is designed to increase the reliability and consistency of ratings across different sites and assessors.
---
---
Presents the story of fifty years of health care and health research at the University of Calgary. Drawing on first-person accounts of researchers, administrators, faculty, and students along with archival research, and faculty histories, this collection celebrates the contribution the University of Calgary has made to the health of Albertans.
---
---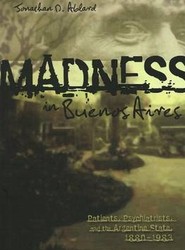 Examines the interactions between psychiatrists, patients and their families, and the national state in modern Argentina. This book offers a fresh interpretation of the Argentine state's relationship to modernity and social change during the twentieth century, while also examining the often contentious place of psychiatry in modern Argentina.
---
---