Showing
9
of 9 results for
In response to three converging afflictions: * our fixation with screentime * our sedentary lives * the invasion of our privacy in the digital age ...'Covert' compiles 30 'movement meditations' that encourage readers to put down their phones and reclaim an active, contemplative lifestyle that is integrated with and inspired by our surroundings.
---
---
A compact handbook of nature practices for personal development and coaches, therapists and outdoor educators. Exercises cover the Ecological Self, Embodiment, Personal Journey, Mindfulness and Inviting Mystery.
---
---
'Before the Curtain Opens' distils a lifetime's lived experience of the Alexander Technique into an engaging and vivid introduction to what becomes a holistic philosophy of performance.
---
---
---
A remarkable collection of poetry, prose, photographs and personal experience on the experience of vulnerability.
---
---
A practical strategy for transforming the UK and other healthcare systems... offering an affordable, sustainable and compassionate alternative to the present mess.
---
---
Prapto's Amerta Movement has inspired thousands of people. But what is Amerta Movement? And what is it about Prapto's work that so touches therapists, artists, musicians, dancers, teachers, performers and laypeople? 30 movement practitioners from around the world (who all trained with him) describe the impact of Prapto's Amerta Movement on them.
---
---
People in different cultures and at different times in history, have held radically different ideas about the body. Understanding these differences is an essential step for anyone trying to understand different approaches to medicine, dance, theatre, psychotherapy, sex and ecology. This book presents nine lenses through which the body is viewed.
---
---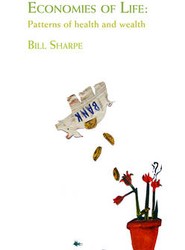 Bill Sharpe opens this delightfully fresh collection of essays by wondering how we can talk about, evaluate and compare things that matter, without immediately putting a monetary value on them. Sharpe's answer draws on the principles of ecological thinking to redefine our hitherto narrow understanding of terms like economy and value.
---
---