Showing
10
of 70 results for
---
---
---
---
---
This book covers a broad range of topics, providing trainee and practising anaesthetists with a comprehensive source of knowledge on applied sciences and clinical anaesthesia. The book has been divided into six sections with various chapters serving as a synopsis of the practice of anaesthesia. Each chapter discusses the significance and importance of problems that can impact the peri-operative management of the surgical patient. The case scenarios at the end of each chapter will additionally help in understanding the practical relevance of basic science. This book will be an invaluable educational resource for trainee anaesthetists and an indispensable aide-memoire for practising anaesthetists. It is, therefore, essential study material for trainees and a great educational tool for trainers. Medical students and junior doctors, who are about to embark on a career in anaesthesia or intensive care medicine, will also find the book to be a useful companion.
---
---
---
Evgeniy Perelygin -- a surgeon who is known to his friends as Perya -- has managed to capture the funny, the amusing, and the ridiculous aspects of what surgeons do and think. Yes, surgeons take their profession very seriously and their patients even more so. But, what is true in any aspect of human life is also true for surgery -- there is always something to laugh about, or even ridicule. And this includes, above all, surgeons themselves! In each of these cartoons lurks the kernel of a basic surgical truth. This truth has been blown up, distorted, and exaggerated, but remains at the heart of the picture. Each picture has a legend describing the situation, which is followed by an aphorism, quote, or comment. This book is essentially for surgical eyes -- they are all cutting edge, and will have the reader in stitches. Readers may also wish to use the images to enliven PowerPoint lectures!
---
---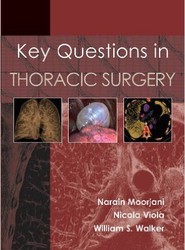 This text systematically covers all the main topics involved in the current practice of a thoracic surgeon, incorporating current guidelines for practice. Each chapter includes etiology, pathophysiology, clinical features, indications for surgery, peri-operative management, surgical options and postoperative care.
---
---
This, the 4th edition of Schein's Common Sense Emergency Abdominal Surgery, builds on the reputation of the three previous editions. Already a worldwide benchmark, translated into half a dozen languages, this book guides surgical trainees logically through the minefields of assessment and management of acute surgical abdominal conditions. General surgery as a concept may have been overtaken in many parts of the world by the development of niche specialties, but the need for a cohort of generalists able to deal competently with common surgical emergencies has not gone away. If you recognise this need then this is the book for you! Tyro surgeons and experienced practitioners alike will benefit from the distilled wisdom contained in these pages. The direct, no nonsense, writing style, supported by entertaining cartoons, gives clear guidance while at the same time providing amusing insights into our collective surgical psyche. NOT a standard textbook. Buy it! You will not regret it. Some new editors and authors enhance the new edition. Almost all chapters have been revised to take account of new concepts and modern developments. New chapters have been added and some completely rewritten often with a new emphasis on the importance of a laparoscopic approach.'
---
---