Showing
10
of 10 results for
---
On 25 January 1849, Elizabeth Blackwell became the first woman to earn a degree from a recognised medical college. As a 'doctress', she addressed taboo subjects such as venereal disease, prostitution and masturbation. This biography uncovers the life of this pioneering woman doctor whose vision and guts in the face of odds changed social history.
---
---
This history describes how Willem Kolff - defiant, ingenious and stubborn - worked under impossible conditions in a country under the merciless occupation of Nazism to solve the problem of kidney failure and to change the course of human history.
---
---
This book summarizes the state of archaeological knowledge about human disease and injury in the distant past. It throws fresh light on the health of our ancestors and on the conditions in which they lived.
---
---
Tells the story of how scientists, engineers and doctors overcame three of the deadliest diseases rife in Victorian Britain: cholera, typhoid and puerperal fever.
---
---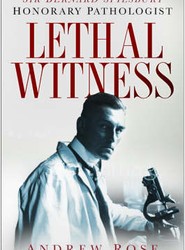 Sir Bernard Spilsbury, the 'Honorary Pathologist to the Home Office', gave crucial evidence in numerous murder cases between 1910 and his bizarre suicide in 1947. This work re-examines Spilsbury's cases and challenges the common perception of him as 'the most brilliant scientific detective of all time'.
---
---
R D Laing, author of "The Divided Self and Knots", was the best-known and most influential psychiatrist of modern times. In this biography, Laing's son tells the story of his father's life and examines the foundations of his pioneering and unorthodox work on madness and the family.
---
---
---
From almost the time when man first discovered the pleasures of sin, he has also experienced the torments of the Pox. Drawing on references from art and literature, stories of famous sufferers and medical documents, this book presents the history of syphilis and gonorrhoea, and their treatment, from the Renaissance to the antibiotic age.
---
---