Showing
9
of 9 results for
In A Dog's Gift, Bob Drury captures the story of a year in the life of paws4people. The book follows the journey of pups bred by the organization, from their early training to an emotional event christened "the bump," where each service dog chooses its new owner through an mystical connection that ignites the healing process.
---
---
In The DNA Restart, Sharon Moalem, MD, PhD, provides a revolutionary step-by-step guide to the diet and lifestyle perfect for your individual genetic makeup. Delicious recipes with mix-and- match meal plans, inspiring testimonials, and genetic self-tests round out this paradigm shifting diet book.
---
---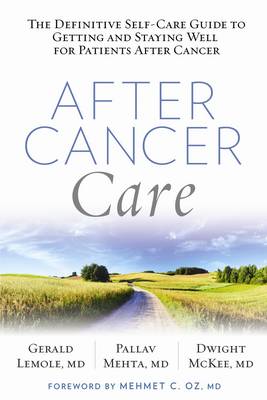 Published August, 2015
By
Dwight L. McKee
,
Gerald Lemole
,
Palev Mehta
,
Pallav Mehta
,
Dwight McKee
,
Mehmet Oz
,
Gerald Lemole, MD
,
Dwight McKee, MD
and
Pallav Mehta, MD
Publisher:
Rodale Press Inc.
Rating:
in-stock
After the intense experience and range of emotion that comes with surgery, radiation, or chemotherapy (or all three), cancer patients often find themselves with little or no guidance when it comes to their health post-treatment. After Cancer Care is the much-needed authoritative, approachable guide that fills this gap.
---
---
Complete with cutting-edge science and success stories, The Micronutrient Miracle reveals how our habits may be depleting essential micronutrients and provides an easy, prescriptive plan to reverse these effects. This book will appeal to a wide variety of readers including low-carb, low-fat, vegan, and even Paleo options.
---
---
---
Complete with success stories featuring people who followed the plan and not only lost weight but were also no longer diagnosed as diabetic, this book teaches readers what's really causing their diabetes, shows them how to banish cravings once and for all, and provides the tools to help them take back control of their lives.
---
---
This year, nearly 1.6 million new cases of cancer will be diagnosed and more than 1,500 people will die per day. Why have we been able to cure and prevent other killer diseases but not most cancers? Where is the bold government leadership that will transform our system from treatment to prevention? This book deals with these questions.
---
---
The body's built-in reward system, driven by the chemical dopamine, tells us to do more of the things that give us pleasure. In this title, the author uses neuroscience to explain how unhealthy food and behavioural "fixes" have ensnared us in a vicious cycle of overeating and addiction.
---
---