Showing
9
of 9 results for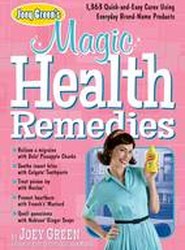 From relieving a migraine with Dole[copyright] Pineapple Chunks, treating stinky feet with Clearasil[registered], and soothing an insect bite with Colgate[registered] Toothpaste, this title is packed with reliable, user-friendly cures for everything from acne and calluses to morning sickness and toothaches - 121 conditions in all.
---
---
---
Chronic pain is something that no one should have to suffer from, yet 50 million Americans do. This book presents doctor-reviewed research to provide an overview of where and why pain begins, and then put that knowledge to use in determining the best way to say goodbye to it forever - using combinations of conventional and complementary therapies.
---
---
A 5-week program that includes a sensible diabetes-friendly diet that teaches you how to incorporate pasta, chocolate, and other 'forbidden' foods into over 150 satisfying dishes. It also includes a gentle walking-based exercise plan, stress reduction exercises, and advice on how to work with one's doctor and diabetes management team.
---
---
Focuses on packaged foods, produce, and dairy and meat products found in our supermarkets. This guide provides readers with easy-to-follow tips and nutrition facts that help them make the best choices for cutting calories, shedding pounds, and even saving money.
---
---
Introduces a revolutionary scientific breakthrough in treating addiction based on a new medical paradigm that finally frees patients from the treadmill of addiction. Including illustrations and easy-to-read charts and graphs, this book clarifies and explains what anyone ever touched by the disease of addiction needs to know.
---
---
Gives men the information they need to effectively navigate the steps of dealing with prostate cancer. This book empowers readers with the tools they need to proactively fight cancer by making informed treatment decisions.
---
---
Every day, over 200 million Americans consume food products made of wheat. As a result, over 100 million of them experience some form of adverse health effect. This title exposes the harmful effects of what is actually a product of genetic tinkering and agribusiness being sold to the public as 'wheat'.
---
---
From superficial concerns and everyday aches and pains to more serious medical problems, the author answers a range of questions about the physical effects of aging, such as: How much weight gain is normal as we age - and why is it so hard to lose? Is it normal to sleep less at night and nap more during the day?
---
---