Showing
10
of 35 results for
Provides an overview of research, experiences and results for the design, development and test of hardware and software components, and the ambition to safely implant and evaluate a novel neural interface system to combat phantom limb pain in an amputee volunteer subject.
---
---
Bridges the widening gap between biologists and engineers by introducing, from the fundamentals, several state-of-the-art computer-aided-design algorithms for sample preparation with digital and flow-based microfluidic biochips.
---
---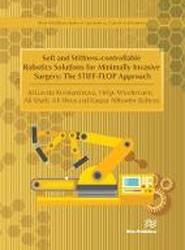 Presents the results of a research project, funded by European Commission, STIFF-FLOP: STIFFness controllable Flexible and Learn-able manipulator for surgical OPerations. In Minimally Invasive Surgery (MIS), tools go through narrow openings and manipulate soft organs that can move, deform, or change stiffness.
---
---
Chlamydiae are a group of obligate intracellular microorganisms with a homogeneous group-specific antigenic structure, and a unique mode of development. The infections caused by them are widespread. Based on scientific facts and the analysis of literature, and the experience of the author, Chlamydiae and Chlamydial Infections sheds light on the problems caused by these infections.
---
---
Targets an optimal treatment of people suffering from thyroid hormone disorders. The content is motivated by in-depth observations of such patients whose rich data supported the theoretical framework arising from formal mathematical reasoning, guided by the nature of thyroid physiology.
---
---
Implantable devices are a unique area for circuit designers. A comprehensive understanding of design trade-offs at the system level is important to ensure device success. This book provides knowledge to CMOS circuit designers with limited biomedical background to understand design challenges and trade-offs for implantable devices, especially neural interfacing.
---
---
Presents the work done, main results and conclusions of the REMPARK project (2011-2015) funded by the European Union. REMPARK was developed as a personal health device for the remote and autonomous management of Parkinson's Disease, composed of different levels of interaction with the patient, clinician and carers.
---
---
The contemporary world faces the challenge of aging societies, where an increasing number of citizens require constant medical attention. Computer Systems for Healthcare and Medicine presents a novel look at problems, and proposes solutions in the form of automated data acquisition and processing systems.
---
---
Summarises and analyses the scientific facts and developments about Q Fever, and proposes a system for monitoring, control and prevention covering. Topics discussed include biological, morphological and immunological properties of coxiella burnetii; diagnosis, clinical forms and manifestations, pathologic changes; and epidemiology of Q fever in animals and humans.
---
---
The Disputationes Workshop series is an international initiative aimed at disseminating stem cell related cutting edge knowledge among scientists, healthcare workers, students and policy makers. This book emerges as a result of the scientific contributions presented and discussed during the fifth Disputationes Workshop held in Aalborg (Denmark) in April 2014.
---
---