Showing
10
of 209 results for
This book examines the pharmacology and principles of safe sedation practice, basic physiology and anatomy of the respiratory and cardiovascular systems, standards of good practice and medicolegal considerations
---
---
---
In the observation of nature smile, the complexity of facial dynamics, the various biotypes of gums and teeth - these are the natural references that challenge us to find the most beautiful esthetic.
---
---
With ever-increasing patient demands for esthetic orthodontic treatment, the use of lingual orthodontics is becoming more common in daily practice.
---
---
Since the concept of osseointegration was introduced to the dental community more than 35 years ago by Professor P-I Branemark, significant improvements have been achieved in patient evaluation, methods used to enhance the bone and soft tissues of potential implant sites.
---
---
This book is the culmination of extensive research and experience in the field of esthetic mucogingival surgery and implant dentistry. The authors rely on clinical documentation and scientific evidence to establish innovative esthetic protocols for the management of mucogingival complications in implant dentistry.
---
---
---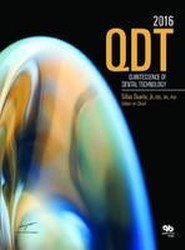 A selection of the newest materials and best fabrication techniques for esthetic restorative results are elegantly presented in QDT 2016.
---
---
Written for the dental technician, this comprehensive textbook describes the philosophy behind prosthodontic design and systematically details all of the working steps in designing and fabricating restorations and dentures.
---
---