Showing
10
of 534 results for
For graduate level audiology students, this textbook provides comprehensive coverage of the audiological principles and practices pertaining to cochlear implants and other implantable hearing technologies.
---
---
For graduate courses in audiology, this textbook outlines the history, definition, behaviors, and co-morbidity of auditory processing disorders before educating the reader on the most current practices for audiological and speech-language assessment of APD, including its impact on literacy and language processing.
---
---
The secrets of the human voice by leading world expert, Dr. Jean Abitbol!
---
---
For undergraduate courses in hearing science, this textbook addresses all the topics critical to understanding the subject: acoustics, anatomy and physiology of the auditory and vestibular systems, psychoacoustics, and basic instrumentation.
---
---
For language acquisition courses in speech-language pathology programs, this textbook presents the primary components of language development (morphology, phonology, semantics, syntax, pragmatics, literacy development, and multicultural/multilinguistic differences), along with examples of children's speech and language behaviors.
---
---
This graduate-level textbook on cultural competence teaches students to be aware of diverse aspects of globalization, how these aspects may affect service provision, their clients' lives, as well as their clients' relationships to service providers.
---
---
For undergraduate or graduate level courses in Communication Sciences and Disorders programs on the clinical process, this textbook provides an overview of clinical observation paired along with specific activities and assignments that could be paired with direct observation in class, a laboratory or clinical setting.
---
---
For speech-language pathologists (SLPs) treating adults with cognitive-communicative impairments following traumatic brain injury (TBI), this book integrates scientific information into a user friendly and practical application tool as a starting point for practicing SLPs.
---
---
With high quality digital recordings of speech samples and cases studies representing a variety of speech symptoms associated with cleft palate, this primer trains students and clinicians to reliably identify articulation, resonance, nasal air emission, and voice aspects of cleft palate speech.
---
---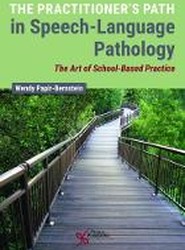 For clinicians and students-in-training, this book provides a blend of clinical evidence and research, practitioner views, common sense, philosophical stances, and historical overviews on the field of speech-language pathology.
---
---