Showing
10
of 47 results for
Protecting public health is central to the success of a modern government. The essays in this collection focus on the relationship between vaccines, vaccination policies and nation states across two centuries. Contributors provide a complex historical analysis of vaccination that will be of interest to historians, health scholars and policy makers.
---
---
Based on extensive archival research, this study examines the role of the Rockefeller Foundation and the League of Nations in improving public health during the interwar period. Barona argues that the Foundation applied a model of business efficiency to its ideology of spreading good health, creating a revolution in public health practice.
---
---
In the years following World War II the health and well-being of the nation was of primary concern to the British government. The essays in this collection examine the relationship between health and stress in post-war Britain through a series of carefully connected case studies.
---
---
Explores the rise of scientific medicine and its impact on Victorian popular culture. Chapters include an examination of Charles Dickens's involvement with hospital funding, concerns over milk purity and the theatrical portrayal of drug addiction, plus a whole section devoted to the representation of medicine in crime fiction.
---
---
The global pharmaceutical industry is currently estimated to be worth $1 trillion. Contributors chart the rise of scientific marketing within the industry from 1920-1980. This is the first comprehensive study into pharmaceutical marketing, demonstrating that many new techniques were actually developed in Europe before being exported to America.
---
---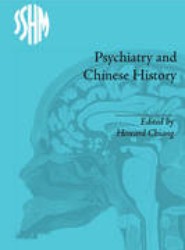 This collection examines psychiatric medicine in China across the early modern and modern periods. Essays focus on the diagnosis, treatment and cultural implications of madness and mental illness and explore the complex trajectory of the medicalization of the mind in shifting political contexts of Chinese history.
---
---
The essays in this collection examine women in diverse roles; mother, socialite, prostitute, celebrity, medical practitioner and patient. The wide range of commentators allows a diverse picture of women's health in this period.
---
---
The nineteenth century brought an increased awareness of mental disorder, epitomized in the Asylum Acts of 1808 and 1845. Shepherd looks at two very different institutions to provide a nuanced account of the nineteenth-century mental health system.
---
---
Doyle examines the role of local and national politics on hospitals. Ultimately, Doyle argues that social and economic diversity created a number of models for future health care which rested on a combination of voluntary and municipal provision.
---
---