Showing
10
of 20 results for
Der vorliegende Band dokumentiert Beitrage der Jahresversammlungen der Paracelsus-Gesellschaft 2016 in Zurzach und 2017 in Staufen. Diese waren zwei Themenkreisen gewidmet, welche zeitliche und uberzeitliche Gesundung miteinander verbinden.
---
---
Anlasslich des Gedenkjahrs zur 500. Wiederkehr der durch die 95 Thesen Martin Luthers eingeleiteten Reformation, beschaftigte sich die Tagung der Christian Knorr von Rosenroth-Gesellschaft mit dem Ringen um den rechten Glauben. Orthodoxie, Konfession und Toleranz 150 Jahre nach der Reformation.
---
---
Critical analysis of the moral soundness of the "brain death" and "controlled cardiac/circulatory death" protocols used in organ transplantation. Analyzes the rationales supporting these new definitions of death, and argues against them, showing that they contradict both Aristotelian-Thomistic metaphysics and contemporary biophilosophy.
---
---
The focus of this book is to investigate interprofessional telephone interaction, a routine yet disruptive activity at the hospital, and to expose how nurses and physicians coordinate in view of delivering efficient patient care. The analysis of recorded calls at a Swiss hospital displays the variable formats through which nurses produce requests.
---
---
The volume is the first modern edition of the 1373 Middle English herbal by John Lelamour, as contained in London, British Library, MS Sloane 5, ff. 13r-57r. The edition is critical and is accompanied by an introduction on the authorship, sources, language and history of the text, a number of explanatory notes, a glossary and several appendixes.
---
---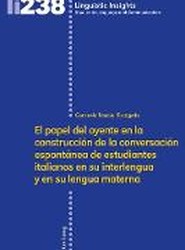 El libro presenta los hallazgos obtenidos en un estudio sobre el funcionamiento de los turnos de apoyo verbales en conversaciones espontaneas mantenidas en espanol y en italiano por italianos de dos niveles de dominio del espanol que evidencia los patrones conversacionales de los mismos y sus especificidades linguisticas y culturales.
---
---
Se trata de un estudio diatopico y diacronico de la transicion de la diglosia marroqui en las ultimas decadas caracterizada por la aproximacion entre oralidad y escritura, la convergencia y el reforzamiento simbolico y funcional del arabe marroqui que se erige en uno de los nuevos ejes identitarios.
---
---
Der vorliegende Band der Zeitschrift Morgen-Glantz enthalt die uberarbeitete Fassung der Vortrage, die an der 26. Tagung der Christian Knorr von Rosenroth-Gesellschaft gehalten wurden. Die Tagung war den Werken des Paracelsisten Johann Baptista van Helmont (1579-1644) und seines Sohnes Franciscus Mercurius van Helmont (1614-1698) gewidmet.
---
---
Der Eintritt der Frauen ins Medizinstudium und in die Arztpraxis seit 1850 wird landervergleichend und im Kontext des fruhen Feminismus und der unterschiedlichen Frauenrechtsbewegungen in Europa und Amerika dargestellt. Zehn Portrats prominenter Pionierinnen illustrieren den Einfluss des Feminismus auf das Medizinstudium fur Frauen.
---
---
Benito Perez Galdos is revered as Spain's greatest nineteenth-century author. This book is the first detailed study of the medicine that appears in his work. It analyses the sources available to Galdos's network, issues such as epidemic disease, madness and children's diseases, and the significance of Galdos's depictions of disease and of doctors.
---
---