Showing
10
of 121 results for
The highly acclaimed most accessible basic introduction for everyone wanting to know more about counselling and helping.
---
---
In 2017 the global #MeToo movement burst through the conspiracy of silence around women's experience of sexual abuse and violence. Now this ground-breaking book provides a space for counsellors and psychotherapists - more often the listeners - to tell their own stories, sometimes for the first time.
---
---
Increasingly, counsellors and psychotherapists are working with people who have been diagnosed with a mental disorder and are required to understand and navigate the mental health system. Yet, counselling training rarely covers the fields of psychiatry and mental health in detail. This comprehensive guide is written as a resource to fill that gap.
---
---
Robin and Joan Shohet are pioneers in supervision training for the helping professions. Much more than a manual, this book embodies the heart, soul, spirit and values of their training courses. Its detailed descriptions of their courses apply directly to the work of the helping professions and the therapeutic relationship, and to life in general.
---
---
This book showcases pioneering projects that offer user-centred, non-medical, context- and trauma-informed ways of helping people in mental distress. Some are located inside mainstream services; others see their separation from the mainstream as essential in order to practise according to their principles and to influence by example, from outside.
---
---
This book takes the themes, energy and passions of the 'A Disorder for Everyone!' events - bringing together many of the event speakers with others who have stories to tell and messages to share in the struggle to challenge psychiatric diagnosis.
---
---
The environment is not the backdrop; it is woven through our identity.' So writes Chris Rose in her introduction to this insightful collection on the mutually enriching relationship possible between psychogeography and psychotherapy.
---
---
To what extent can the UK government's Improving Access to Psychological Therapies system of care - driven by psychiatric diagnosis, fast through-put and quick-win `outcomes' - really provide a solution to Britain's growing mental health crisis?
---
---
This collection of essays presents a powerful critique of the contemporary discourse of work as a moral necessity, good for our national economy and good for our mental and physical health.
---
---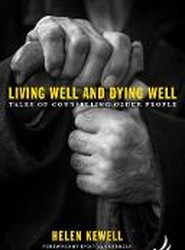 Older people rarely feature in counselling literature, and the very old barely at all. Helen Kewell describes her encounters with some of the old and very old clients with whom she has worked as a counsellor. The common thread is the recognition of the human potential for growth, change and acceptance, regardless of age and ill health.
---
---