Showing
7
of 7 results for
This monograph is an ideal primer for medical and computer science professionals designing and understanding data infrastructure for medical research. It is intended to appeal to both audiences: technical/computer scientists in the process of designing infrastructure and systems for the analysis of medical data as well as medical professionals who want to understand the challenges involved.
---
---
Performance Improvement in Health Care Organizations reviews the literature on this important topic and presents a framework that synthesizes the factors associated with successful transformational performance improvement.
---
---
Focuses on the three main types of services that hospitals provide: surgical services, emergency services, and inpatient services. In doing so, the authors expose the interconnectedness of these services and the challenges that arise due to the cascading effects of mismatches in any one area on all other hospital operations.
---
---
Uses an implantable cardiac pacemaker as a working example to show how model-based design can help improve the safety and efficacy of medical device software. The book demonstrates the application of model-based design in several design activities during the development process, from the perspective of the manufacturer's design validation team.
---
---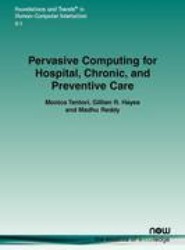 This monograph presents an overview of the history of pervasive healthcare research as a human-centered vision driven by a healthcare model that includes preventive, hospital, and chronic care. It summarizes the research in this space, outlining research challenges, current approaches, results, and trends.
---
---
---
---