Showing
10
of 19 results for
Written by expert researchers, educators, and professionals who collaboratively design standards and national certification exams for professional nurses, the CNE Review Book is the definitive guide for faculty pursuing the CNE credential. Based on the revised 2012 practice analysis, this book is an essential text for aspiring certified nurse educators and all nurse educators across the academic spectrum.
---
---
While confronting many challenges related to changes in health care, higher education, and clinical practice, nurse educators are exploring new opportunities for innovative teaching/learning methods, new clinical models, and educational practices to provide high-quality education to promote optimal, quality patient care. Clinical simulations can provide health care educators one approach to create student-centered, experiential environments that engage and prepare the learner for real-world practice. 

Clinical Simulations in Nursing Education: Advanced Concepts, Trends, and Opportunities provides chapters authored by expert simulation researchers, educators, and users to shed light on important advancements and emerging topics in clinical simulation including:

 • Enhanced interprofessional education and practice through simulation
 • Meaningful debriefing
 • Expansion of clinical simulation globally
 • Development of a good business plan and consideration of the economic model of a simulation center
 • Research and evaluation of clinical simulation
 • High-stakes simulation
 • Certification of educators and accreditation of simulation centers

---
---
In numerous, oftentimes seemingly small ways, faculty in schools of nursing are implementing the recommendations of the Institute of Medicine report, The Future of Nursing: Leading Change, Advancing Health. These practices are the building blocks that will lead to a future of excellence in nursing education.

Building the Future of Nursing links the NLN mission and its core value of excellence to this important work. The chapters in this text (originally accepted for publication in the Innovation Center of the NLN peer-reviewed research journal, Nursing Education Perspectives) highlight how faculty are using the recommendations for al types of nursing education, nationally and internationally.
---
---
Nurse Educator Competencies: Creating An Evidence-Based Practice For Nurse Educators is a compelling critical synthesis of the research related to educator competencies. Drawing on literature in nursing and many other fields, the authors present an analysis of the work done to date regarding each competency (e.g., facilitate learning, use assessment and evaluation strategies), draws conclusions about what we do and do not know related to that area of practice, and proposes priorities for future research related to that competency.
---
---
The core of On Revolutions & Revolutionaries: 25 Years of Reform and Innovation in Nursing Education is six original essays published by the NLN during curriculum revolution of the 1980s/1990s. The work provides a glimpse into how our leaders thought about ways in which nursing education needed to be reformed and  examines the progress made in nursing education since then, and proposes future directions in the field.
Many of the original authors include reflections on the original works and our current state of nursing education. Other contemporary chapters have been added to enhance the forward-looking nature of this book. The collection inspires the reader to reflect on the progress that has been made in transforming nursing education toward a student-centered, interactive, evidence-based practice and to think about what needs to be done to create a preferred future for nursing education. As such, this book is an important resource for faculty and for graduate students preparing for the faculty role.
---
---
This is a new edition of Dr. Hattie Bessent's groundbreaking work, originally published in 2005 by the W.K. Kellogg Foundation. The text provides first-person accounts of the lives and motivations of eleven African American nurses of outstanding achievement. Their stories present the authors' philosophies of leadership and the strategies they used to succeed, against the odds, in what had been a predominantly white profession.
---
---
African American Voices: Reflecting, Reforming, Reframing is the second work in a series devoted to promoting diversity in nursing and nursing education. This text was written to ensure that all nurse educators and for those who want to be nurse educators are prepared as culturally competent and culturally sensitive health care providers who serve patients who do not look like them, or speak like them, or believe in the same ideas that they do. It presents a number of issues facing the nursing profession, such as the nursing shortage and its impact on the delivery of health care for underrepresented populations; integration of innovative simulations to teach cultural competence; the shortage of nurse educators, especially African Americans, and the value of mentoring; and the role of PhD in nursing programs.
---
---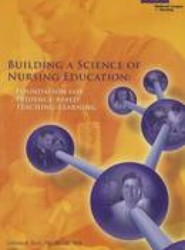 Building the Science of Nursing Education: Foundation for Evidence-Based Teaching and Learning is the culmination of a seven-year project by the NLN Task Group on Teaching-Learning Paradigms. The contributors, all seasoned nurse educator-scholars, thoroughly investigated existing studies of nursing education practice and created the first model for building a science of nursing education, which, it is hoped, will serve as a foundation for continuing scholarship in the field.
---
---
Clinical Nursing Education: Current Reflections was conceived as a unique resource for seasoned and novice faculty as well as for graduate students on the nurse educator track. The book aims to help the profession re-imagine clinical education, historically, the essential core of nursing education, and examine the impact of new models for clinical education in an increasingly complex environment of health care delivery.
---
---
Achieving Excellence in Nursing Education is based on the National League of Nursing's Excellence in Nursing Education Model that describes the eight core elements required to achieve and sustain excellence in educational programs: clear program standards, well-prepared faculty, qualified students, well-prepared administrators, evidence-based programs and teaching/evaluation methods, quality and adequate resources, recognition of expertise, and student-centered, interactive and innovative programs and curricula.
---
---