Showing
10
of 30 results for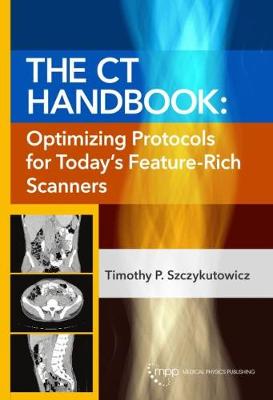 Covers everything from the basic x-ray photon interactions of CT to scheduling patients and properly organising and displaying protocols. After reading this book, radiologists should have enough confidence to suggest changes to their CT protocol optimization teams.
---
---
This introduction to the science and technology of MRI has been written at the beginning graduate level primarily for professional medical physicists and engineers in training. More advanced topics - like Fourier analysis, k-space, and statistical distributions - are introduced as they are needed.
---
---
Covers the field of radiation physics with a mix of depth, insight, and humour. This second edition features new material on digital x-ray imaging, neutron survey meters, flattening-filter free and x-band linacs, biological dose indices, electronic brachytherapy, OSLD, Cerenkov radiation, FMEA, total body irradiation, and more.
---
---
Since the early 1910s, the staff of Memorial Hospital in New York have been deeply involved in the development and application of radiation to treat cancer. This book chronicles the activities and contributions of the hospital's medical physics staff from 1910-2010.
---
---
Provides a wealth of information on the relationship between physics and the functions of the various systems of the body, such as the eyes, ears, lungs, and heart. Although this book has been written primarily as a text for students who have some knowledge of elementary physics, the book would be understandable to anyone curious about how the body works.
---
---
Covers essential physics concepts for understanding and calculating problems in the physical energy deposited in matter from ionizing radiation. The focus of application is on medical uses, both imaging and radiation therapy. There is more weight on radiation therapy throughout the book because of the much greater need for accuracy and precision in that field.
---
---
MPP's biennial review of the treatments and techniques on the cutting edge of medical imaging and treatment, Advances in Medical Physics is designed to help medical physicists and technically inclined physicians stay current in medical radiation science and technology - especially in subfields of medical physics other than their own.
---
---
Focuses on the MDCB exam's ""big three"" areas of treatment planning, radiation physics, and dose calculation. Other sections of the study guide cover localization, brachytherapy, radiation protection, and quality assurance. Many questions include helpful full-colour figures and detailed explanations from one of the world foremost authorities.
---
---
The late John "Jack" Fowler was a busy radiation biology researcher and teacher who wrote 581 papers over the last 65 plus years. He also received nearly every honour the medical physics field can bestow. This book sums up the key concepts relating to optimum fractionation in radiation therapy that interested him throughout his life. This book is a quick, informative, and enjoyable read.
---
---
This title is designed to help medical physicists and technically-inclined physicians stay current in medical radiation science and technology, especially in sub-fields of medical physics other than their own.
---
---