Showing
10
of 32 results for
Provides a comprehensive framework for ethics in the helping professions based on bioethicist Bernard Gert's theory of common morality. The framework proposed in this text moves beyond codes of ethics, and allows students to develop a cohesive sense of ethical reasoning that both validates their moral intuition and challenges moral assumptions.
---
---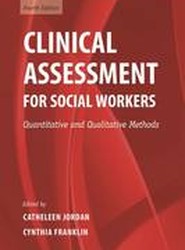 Introduces readers to the foundations of assessment and illustrates the use of various assessment methods with children, adolescents, families, multicultural clients, and multistressed clients. The new edition explores the difference between diagnosis and assessment, with a critique of the strengths and weaknesses of the DSM-5.
---
---
---
---
Thomas O Hare strikes a pragmatic balance between flexibility and adherence to empirical guidelines in performing routine assessments, interventions, and evaluations. The purpose of this book is to address the need for a framework guided by the best evidence to help practitioners who work with clients with difficult and complex psychosocial issues.
---
---
---
---
---
---
---