Showing
10
of 58 results for
Osteopath, lecturer and author John Gibbons offers an accessible introduction to the peripheral nervous system (PNS). Alongside real case studies and guidelines for hands-on work with clients and patients, The Vital Nerves demystifies and makes accessible everything from how to diagnose nerve conditions to understanding how our cells communicate.
---
---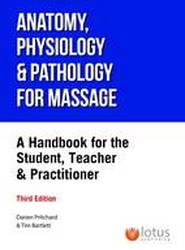 This fully updated third edition of the best-selling Anatomy, Physiology and Pathology for the Massage Therapist provides a solid base for the student and early practitioner to learn the physical make-up of the body, giving a broad introduction to the body's physical functioning.
---
---
Designed to help movement therapists, physical therapists, and bodyworkers understand gait and its mechanics, and will appeal to anyone with an interest in evolution and movement. It offers a concise model for understanding the complexity of movement while gaining a deeper insight into the physiology and mechanics of the walking process.
---
---
This comprehensive muscle reference chart is the fastest visual reference of key muscle information available to date. An invaluable aid to both students and practitioners of physical therapy, medicine, sports science, massage, or Pilates, etc.; providing instant access to the key anatomical information for each major skeletal muscle.
---
---
This book is a must for any complementary therapist wishing to understand how to use crystals as energy-based tools when treating the subtle energy system (chakras, meridians, etc.).
---
---
This book is a must for any physical therapist involved in the treatment of patients, athletes, or indeed anyone who may present with any type of sports-related injury or common medical condition. This new edition offers self-help techniques to allow the patient to self-treat, where appropriate.
---
---
Throughout history, there has always been constant development and efforts made to better understand human form and function. The aim of this endeavor has been to find a better and more suitable way to understand and describe human movement. This book is another contribution to this great work and another step in its development.
---
---
This comprehensive guide to aromatherapy provides thorough coverage for students and is also an excellent reference for practitioners. It includes all the information required by students training on aromatherapy courses accredited to Levels 3 or 4.
---
---
It is the perfect study and revision aid for anyone studying a wide range of complementary therapies up to level 3 from aromatherapy, reflexology and massage to hair and beauty and can be used either in class or as a separate self-study resource.
---
---
Bodymaster John Gibbons is recognised as one of the world's leading authorities in sports medicine. In The Vital Shoulder Complex he shares his wealth of knowledge and experience to help you get the best results when working with this challenging but fascinating area of the body.
---
---