Showing
10
of 2269 results for
Comprehensive guide to breast imaging presented as a series of cases and following a unique radiology-pathology correlation approach. Covers all imaging techniques and types of breast cancer. Recognised, US-based author team. 
---
---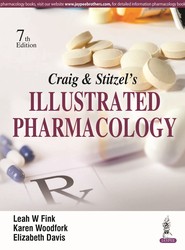 The seventh edition of this textbook has been fully revised and to provide students with the most recent knowledge and advances in the field of pharmacology. Includes case studies and multiple choice questions and answers. Previous edition published in 2003.  
---
---
Fully revised, new edition presenting latest advances in spinal surgery, covering techniques for each section of the spine. Authored by internationally recognised, US-based experts in the field. Previous ediiton (9789350903261) published in 2013.
---
---
Fully revised, third edition providing undergraduates with the latest information in the field of gynaecology. Includes new chapters on genital tuberculosis, uterine displacements, and endoscopy. Previous edition (9788184489101) published in 2010.
---
---
Fully revised second edition proving latest advances in diagnosis and management of otolaryngologic disorders. Includes 36 new chapters, many with focus on paediatric conditions. US-based author team. Previous edition published in 2001.
---
---
Fully revised, new edition detailing latest advances in anaesthesiology. Chapters presented with step by step decision making algorithm with explanatory text and tables. Internationally recognised author team from Texas.
---
---
This two volume set comprehensively covers the entire field of otolaryngology. Written by a team of otolaryngology experts from the USA, Brazil and South Africa, this authoritative book is essential for all otorhinolaryngologists in training and in practice. Enhanced by full colour images and illustrations throughout, the book provides a thorough guide for residents and experienced practitioners.
---
---
Fully revised new edition of comprehensive guide to liver transplantation. Highly illustrated with surgical images. Intenrationally recognised author team. Previous edition published in 2002.
---
---
Part of the World Clinics: Obstetrics & Gynecology series, this new volume presents clinicians and trainees with the latest developments in the diagnosis and management of anaemia. Beginning with an introduction to the classification, pathology and diagnosis of the condition, the following chapters cover different types of anaemia. Presented as a collection of evidence-based reviews, each article is enhanced by photographs and figures, and concludes with a summary and comments by the editors highlighting their own clinical experience.
---
---
This new edition provides dermatologists with the latest advances in the diagnosis and treatment of melasma. The book begins with discussion on epidemiology and aetiological factors, aetiopathogenesis, clinical features and classification, and investigation techniques, including dermoscopy. The following chapters cover different treatment methods. The second edition has been fully revised and features two new chapters on platelet rich plasma therapy, microneedling, and mesotherapy; and future directions in the treatment of melasma. Previous edition (9789351525431) published in 2015.
---
---