Showing
9
of 9 results for
It is fundamental to measure the individual value of different medical interventions in order to prioritise resources. Preference-based approaches can produce measures that allow comparisons of such values. This volume covers altruism within families, differences in risk attitudes, and estimation of health benefits of food safety.
---
---
Volume 4 considers the configuration of the broader healthcare eco-system. It examines the tight connection between sustainable healthcare, sustainable communities, and sustainable ecologies - and the organizational and inter-organizational approaches being applied to advance overall sustainability.
---
---
Deals with the topic of health inequalities and health disparities. This book examines racial and ethnic inequalities and disparities. It focuses on consumers and topics of health care disparities. It also focuses on issues related to substance abuse, mental health and related concerns.
---
---
Investigates the impact of information technology, biogenetic, and pharmacological innovation on individuals quality of life, safety, individual and system health care utilization, occupational and environmental health and formulary decision making, and costs.
---
---
Examines the health care and hospital industries and their relation to entrepreneurial action and strategy. This work helps to recognize and address the often elusive phenomenon of successful strategic choice over environmental determinism, which is aided by quality strategic thinking and decisive entrepreneurial actions.
---
---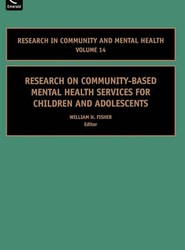 Research on mental health services for children and adolescents has become a vibrant subspecialty within the larger field of mental health services research.
---
---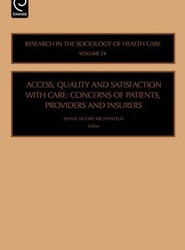 Explores a variety of issues in health care system. This volume looks at health care from a sociological perspective that is focused on access, quality and satisfaction than cost. It is intended for health services researchers, policy analysts and public health researchers.
---
---
Contains three sections that cover, Human Rights, Public Safety, and Public Policy; Practitioner Responsibilities During Times of Epidemics; and Global Dimensions of Epidemics.
---
---
Discusses character formation, ethics, professional character, and other concepts and addresses the interpersonal aspects of physicians as well as the importance of character.
---
---