Showing
10
of 129 results for
Addresses the most current needs and offers guidance on clinical practice, radiation safety and patient protection, human resource development and training required for the overall practice of nuclear medicine.
---
---
Provides an introduction to gamma computed tomography for non-destructive evaluation imaging in the simplest configuration. The guide is intended to be of use to the non-destructive testing community, currently practicing conventional radiography techniques.
---
---
These proceedings are the result of a conference on advances in radiation oncology. The aim of the conference was to discuss and define the current role and future potential of medical physics and molecular/biological innovations in routine clinical practice in radiation oncology.
---
---
Focuses on the medical management of individuals involved in radiation emergencies, especially those who have been exposed to high doses of ionizing radiation. The primary objective is to provide practical information to be used for treatment decisions by medical personnel during a radiation emergency.
---
---
Reviews the role of zinc in human nutrition and the application of stable isotope techniques to evaluate nutritional interventions. Advice is given on planning a study, administering isotopes, preparing and analysing samples, and calculating physiological end points.
---
---
Provides guidelines and best practices for the quality control of medical radioisotopes and radiopharmaceuticals. It was written by a group of experts with experience across a range of radiopharmaceuticals and is intended to support professionals in the preparation of good quality and safe products to be used in nuclear medicine procedures.
---
---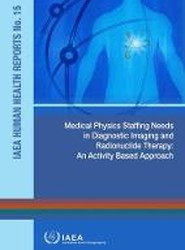 Describes an algorithm developed to determine the recommended staffing levels for clinical medical physics services in medical imaging and radionuclide therapy, based on current best practice, as described in international guidelines.
---
---
The IAEA has developed a new international consensus document on accuracy requirements and uncertainties in radiotherapy, to promote safer and more effective patient treatments. This publication addresses accuracy and uncertainty issues related to the vast majority of radiotherapy departments including both external beam radiotherapy and brachytherapy.
---
---
A guide for the clinical commissioning of radiotherapy treatment planning systems (RTPSs) that provides a simple protocol for these tasks. The procedures for clinical commissioning tests cover typical treatment techniques used in radiotherapy hospitals and are based on the use of a specific phantom.
---
---