Showing
6
of 6 results for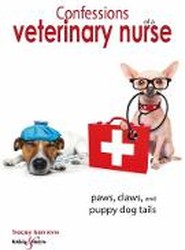 Join Tracey on her humorous and bittersweet journey from trainee to fully-qualified veterinary nurse. Filled with love, fluff, laughter and the occasional tear, Tracey's story is a fascinating insight into the hard work and dedication that goes into looking after animals, in sickness and in health.
---
---
A comprehensive text that is highly relevant (even indispensable) to every dog and cat carer. Bursting with up-to-date information on all important areas of animal health, the information in this book will help maintain good health, or offer help during an illness.
---
---
This amazing book details how, by employing patience, understanding, compassion and love, rescue animals can become therapy animals. Taking you through the journeys of nine animals and one human, the book demonstrates how human-animal connections can lead to a relationship that is both therapeutic and healing, regardless of species.
---
---
Arthritis among cats is an increasingly common problem, which has been largely undiagnosed, leaving many cats to suffer in silence - until now. Written in an easy-to-understand style, this book helps owners to recognise the signs of arthritis, and how to best tackle the disease in an holistic way.
---
---
If your dog was to step on a shard of glass, or have an allergic reaction to an insect bite, would you know what to do? Luckily, the help that might be urgently needed to save the life of your faithful friend can be found in this compact and easy-to-understand book.
---
---
Explores canine hydrotherapy, rehabilitation and weight management, and how these can improve your dog's well-being. Obesity is one of the most common issues that domestic dogs face, and this book brings awareness to the matter, suggesting preventative measures and simple husbandry tips that the owner can use to safeguard their dog's welfare.
---
---