Showing
10
of 23 results for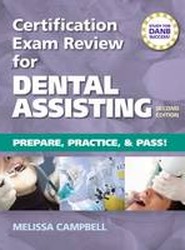 Certification exam review for dental assisting, is designed around the Dental Assisting National Board (DANB) Examination blueprint. Its fresh approach centers on how and what to study to pass a variety of state and regional exams, while eliminating tangential material that can bog down the study process.
---
---
Correlating with NATA Standards, this edition introduces essential skills in Sports Medicine, along with its growing number of career choices. It addresses topics such as: fitness assessment, conditioning, emergency preparedness, injury management, therapeutic modalities, nutrition, ethical and legal considerations, and more.
---
---
---
Suitable for occupational therapy, physical therapy, and other rehabilitation disciplines, this book provides a broad, occupation-based viewpoint of development and performance throughout all life stages with an emphasis on the factors that influence daily participation and optimal performance of desired daily life tasks.
---
---
---
The Billers and Coders workbook is designed to help students retain key content related to financial activities within the EHR. Expanded activities will provide students with additional practice in these challenging areas.
---
---
---
---
---