Showing
7
of 7 results for
The Australian Medicine Careers Guide is a unique book for medical students and junior doctors who aspire to pursue satisfying careers within the medical profession, providing advice and facts about the many career pathways that are available.
---
---
In paediatrics, clinicians and parents sometimes disagree about the appropriate medical treatment for a child. When should the parents' decision about their child's medical treatment be overridden? This book explores ethical decision-making when clinicians and parents disagree about medical treatment for a child.
---
---
An account of developments in law, biomedical science, healthcare delivery and bioethics. It includes sections that are dealing with critical reasoning, problem solving, professionalism, negligence, standards of care, public health and the biosciences have been considerably expanded.
---
---
This text has been widely used for training doctors, nurses and other health professionals throughout Australia and the Pacific and this new edition updates many topics to reflect events that have occurred since the first edition was published, as well as including subsequent changes in law and ethical thought.
---
---
This book covers the regulatory context of health care and health practitioners in Australia, legally accountable service delivery, adverse events and legal challenges of professional life, and it includes a wide range of professional and jurisdictional case illustrations.
---
---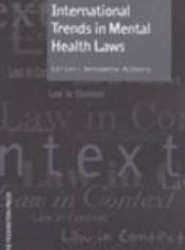 This volume comprises essays on international trends in mental health laws, focusing in particular on the development of the Convention on the Rights of Persons with Disabilities and its combination of civil and political rights on the one hand and economic, social and cultural rights on the other.
---
---
There is now a 'brave new world' of health which characterises policy debate about health (and illness or disability). This permeates even the more narrow technical issues within clinical medicine, the law and medical science. The book draws on international and local experts to explore these issues.
---
---