Showing
10
of 50 results for
---
This ERS Monograph presents an overview of the subject area, starting with chapters on basic anatomy, imaging and practical clinical examination, then focusing on associations with cystic fibrosis, infections, asthma, COPD, and much more.
---
---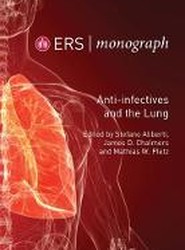 A comprehensive overview of the use of anti-infectives in lung diseases, covering community- and hospital-acquired pneumonia, exacerbations of respiratory diseases, tuberculosis and nontuberculous mycobacteria pulmonary disease, pleural infections, fungal diseases, antibiotic stewardship, mechanisms of action and resistance, and drug development.
---
---
This Monograph gives a comprehensive overview of pulmonary emergencies, including pneumothorax, pulmonary embolism, right heart failure, haematothorax, acute exacerbations of respiratory diseases and developments in treatment options such as high-flow nasal cannula oxygen therapy, extracorporeal carbon dioxide removal and noninvasive ventilation.
---
---
This Monograph provides a comprehensive overview of palliative care in respiratory disease, including policy variations, epidemiology of advanced respiratory diseases, access to palliative care, the need for care in a range of chronic respiratory diseases, and detailed sections on breathlessness and on care for patients with advanced disease.
---
---
This Monograph provides an up-to-date, comprehensive overview of severe acute respiratory syndrome, Middle East respiratory syndrome and other viral respiratory infections, including seasonal influenza, avian influenza, respiratory syncytial virus and human rhinovirus, through six chapters written by authoritative experts from around the globe.
---
---
This Monograph aims to discuss the latest achievements in IPF, and covers key diagnostic issues, staging of the disease, complications and comorbidities, treatment, unmet patient needs and perspectives for the future. This book will be of interest to all clinicians and researchers in this area.
---
---
This Monograph will be of interest to pulmonologists in all areas of respiratory medicine. The book is divided the book into two areas: imaging methodology and safety; and imaging use in specific respiratory conditions. Chapters include: safety issues in CT and MRI, MRI methods, nuclear medicine, chest radiography, COPD, and much more.
---
---
This ERS Monograph considers where the current controversies in COPD lie, discussing areas such as screening, premature birth, asthma-COPD overlap syndrome, treatment, rehabilitation and palliative care. This book will be of interest to clinicians and scientists, and aims to stimulate further discussion about this diverse disease.
---
---
---