Showing
10
of 32 results for
Written from an approach of understanding statistical analyses from the research question posed and the perspective of the research design, this book presents the fundamental concepts of statistical analysis.
---
---
Presents a model for healthcare providers to enhance their skills in patient and colleague interaction while providing care. The focus is to provide ways to improve health-related interaction by envisioning oneself as a therapeutic tool.
---
---
Focuses on the practical issues and challenges faced by nurses working with rural populations. Additionally, the text provides background information on topics such as the aging rural population, mental health, substance abuse, telehealth, interprofessional education, and introduces evidence-based strategies to facilitate quality care.
---
---
Written by researchers at the United States Department of Agriculture, this volume explains emerging genomic and other omic methods for studying the microbiome in animals and humans with respect to diet.
---
---
An up-to-date course textbook that addresses the core concepts of quality and safety in healthcare. Quality and safety are presented using scientific principles which allow for a methodology resulting in evidence-based measurement of outcomes. Examples and cases are provided throughout to illustrate key concepts.
---
---
A concise and approachable guide that provides the skills and knowledge necessary for nurse leaders and nursing graduate students to successfully and persuasively convey written content with clarity and technical proficiency.
---
---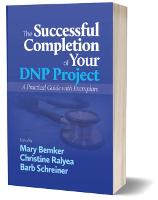 The DNP degree supports the nurse's ability to take evidence-based practice from the review of the literature and apply it in practice. The DNP project reflects the culmination of this degree and this book will guide the DNP student from the choice of a topical project to the final presentation.
---
---
A guide for healthcare providers to prudent decision-making that ensures the safety of patients and protects providers from liability. The book is written in a concise, highly accessible, and methodical way for both students and practitioners. Examples and cases are provided throughout for classroom discussions and personal reflection.
---
---
Provides guidance on statistical analysis, specific to the needs of the DNP student, to assist in analysing data for the results of the final DNP project and to provide a framework for future scholarly pursuits.
---
---