Showing
10
of 78 results for
Foreword by Jeffrey Zeig. This is the first book dedicated to Ernest L. Rossi's Mirroring Hands therapeutic process. Mirroring Hands is a technique that emerged from Ernest L. Rossi's studies and experiences with Milton H. Erickson.
---
---
This second book of metaphors for children will entertain and delight while the therapeutic message, cleverly embedded in the story, slips into the unconscious mind of the child.
---
---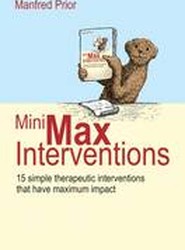 In MiniMax Interventions, Manfred Prior presents therapeutic communication strategies that are designed to achieve a lot with just a few linguistic alterations: maximum results for minimal effort.
---
---
Stephen Gilligan and Robert Dilts truly take you on a voyage of self-discovery. The Hero's Journey examines the questions: How can you live a meaningful life? What is the deepest life you are called to, and how can you respond to that call?
---
---
Milton H. Erickson is recognised as one of the most innovative clinicians of our time. Known as the father of modern hypnosis and the source of inspiration for many forms of family therapy and brief therapy Erickson's influence has reached far beyond the perimeters of any one country or culture.
---
---
Children are sometimes prescribed glasses at a very young age but there are natural methods that could have even greater benefits, when they are young and in the long term. Simple exercises can make your child's eyes healthy and strong and eliminate the need for glasses.
---
---
For a number of years, Rubin Battino has been presenting professional workshops on the art of very brief therapy.
---
---
Can one session of therapy be enough for some people? The answer, is most definitely, yes.
---
---
The Cancer Revolution lays out the territory of the developing science of Integrative Medicine (IM) that can be a resource to those who have, or have had, cancer or indeed those wishing to avoid cancer.
---
---
Eye Movement Integration Therapy is the first book to detail one of the most innovative and effective new treatments available to psychotherapists today. Available in Hardback ISBN 9781904424154
---
---