Showing
10
of 82 results for
Stephen Gilligan's Generative Trance offers a framework for developing a more creative consciousness and lays out the step-by-step processes by which this can be done.
---
---
Milton H Erickson is one of the most studied people in the field of hypnosis and psychotherapy. Hundreds of thousands of words have been written analyzing his therapeutic methods and words with miles and miles of film, audio and videotapes.
---
---
Describes in detail how Mirroring Hands is conducted, and explores the framework of knowledge and understanding that surrounds and supports its therapeutic process.
---
---
Time Line Therapy and the Basis of Personality is a compelling study of the important elements that make up a person's core personality, and a detailed exploration of and introduction to how Time Line therapy works in practice.
---
---
This second book of metaphors for children will entertain and delight while the therapeutic message, cleverly embedded in the story, slips into the unconscious mind of the child. The tales enhance empowerment by exposing children to new possibilities, new perspectives and differing philosophies.
---
---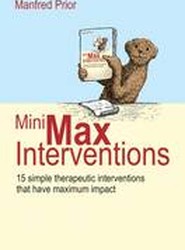 In MiniMax Interventions, Manfred Prior presents therapeutic communication strategies that are designed to achieve a lot with just a few linguistic alterations: maximum results for minimal effort.
---
---
Stephen Gilligan and Robert Dilts truly take you on a voyage of self-discovery. The Hero's Journey examines the questions: How can you live a meaningful life? What is the deepest life you are called to, and how can you respond to that call?
---
---
Milton H. Erickson is recognised as one of the most innovative clinicians of our time. Known as the father of modern hypnosis and the source of inspiration for many forms of family therapy and brief therapy (including the increasingly popular solution-focused therapy) Erickson's influence has reached far beyond
---
---
Leo Angart runs workshops all over the world, helping people to regain their natural vision and throw away their glasses for good. He regularly encounters children whose eyesight is being adversely affected by their glasses or who don't really need glasses at all.
---
---
Edited by Michael Hoyt, PhD and Moshe Talmon, PhD. Could a single therapy session be not only helpful but even sufficient for some people? Numerous clinical examples and the research evidence support a definite "Yes!" Drawing from multiple theoretical approaches and cultural contexts, this is the book to read if you want
---
---