Showing
4
of 4 results for
Florence Nightingale is one of the most famous figures in modern history. Based on her writing, this book reports what Florence Nightingale said and did. It offers a scholarly view of Florence Nightingale's extraordinary life and career that gets to the heart of her range of interests and achievements.
---
---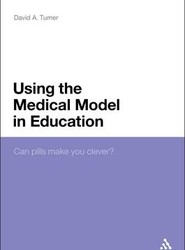 Medicine, and particularly neuroscience, appears to offer the kind of educational quick fixes that politicians and the public would love to have. Following media reports of drugs that seemingly improve learning and memory, this title examines commonly held beliefs about learning, knowledge and intelligence, and critically assesses such claims.
---
---
Highlights that some young children have a medical condition. Although most of them won't have a SEN, it is still important that practitioners are aware of the implications of certain conditions and of the best ways they can offer support. This book is a useful reading for those involved in early years' care and education.
---
---
Epilepsy is neither an illness or a disease, but rather a tendency of the brain to be triggered to cause a spasm, a seizure or a fit. This book provides advice on effective teaching and learning strategies that can be used in the classroom to help students with epilepsy. It is useful for teachers, trainees, SENCOs and teaching assistants.
---
---